Discover more from The Wisdom Project
Read better, think better, live better. Actionable insights for multi-passionate generalists. Lessons from the best books, podcasts, articles and more. 1 value packed email per week.
Meta-Cognition: One Skill To Rule Them All
Wisdom Letter #45 | Mind Your Brain
Hello and welcome to The Wisdom Project. Your weekly dose of human curated wisdom in a world full of algorithmic noise.
"Mind" and "Brain" are terms often used interchangeably by most people. But actually they convey very different meanings.
The Brain is a piece of hardware, the 1.5 kg package of grey matter that sits inside our skulls.
The Mind is the software that runs on top, its the operating system of our bodies. That is meant to control the brain and through it, the rest of the body. It also gives us a handle on the functioning of our selves.
Our ability to think, analyze, reflect, emerges here, our sense of self emerges here, our consciousness emerges here. Our mind is what separates us from the monkeys.
Well, some of us anyway.
Our brain is 10,000 year old hardware stuck in the modern world. Its not equipped to function in a prosperous society like ours. It still gorges on sugar and stores up fat in prep for famine. Its fraught with shortcuts to conserve energy, shortcuts that end up becoming biases which do more harm than good to us.
It still runs on the binaries of the fight or flight response.
Its our Mind's job to rein in our Brain, to overcome the biases, to look over the shortcuts and think deeply. To find nuance between the binaries.
Its also our Mind's job to make optimal use of the most advanced tool on the planet—our Brain.
Today we kick-off a series we are calling "Mind Your Brain", where we explore this complex love-hate relationship between our minds and our brains.
Every few weeks, we will pick one topic in the area, and take a deep dive.
This will not be the conventional curation of a bunch of external content, instead this will be more of our own reflections and observations about the topics.
But our focus will still be the same, to come up with content that teaches you something as well as forces you to think, without putting you to sleep in the process :P
So, lets get into it, today we are talking about Meta-Cognition—thinking about thinking.
---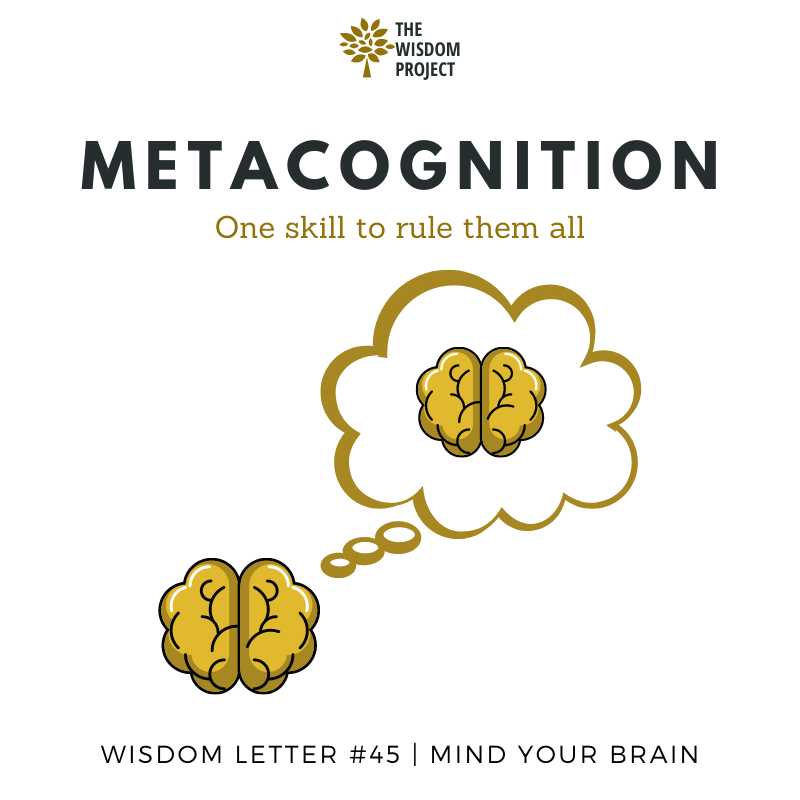 What is your favorite song?
Or your most memorable song from your teenage years.
What comes to your mind when you think about it?
Does it evoke a visual memory along with it? Or a familiar fragrance comes to mind maybe? Or a particular person?
Maybe it brings to mind a phase in your life, the song represents a particular period of your history.
Every song that is memorable to you is like a page out of the the book of your life. There are multiple sensory impressions on each page. And thinking about one impression, brings everything else along with it to the mind as well.
But why does that happen? My question was intended to evoke an auditory memory, but your brain also invoked all the other sensory memories associated with that time and place.
Why did it happen?
Have you ever examined the roots of your thoughts?
Neurons that Fire Together, Wire Together!
---
This was Wisdom Letter #45.
Tell us what you liked or disliked about today's letter. We really appreciate all the responses that we get and are hungry for more.
Hit reply and lets get talking.
Thanks for reading, see you next Sunday.
Ciao
Aditi & Ayush