Discover more from The Wisdom Project
Read better, think better, live better. Actionable insights for multi-passionate generalists. Lessons from the best books, podcasts, articles and more. 1 value packed email per week.
Why We Live in Filter Bubbles, How they harm us, and What to do about them?
Wisdom Letter #49 | Confirmation Bias | Mind Your Brain
Hello and welcome to The Wisdom Project — Your weekly dose of human curated wisdom in a world full of algorithmic noise.
Please drag this mail to your Inbox if its already not there!
---
Today we continue our series "Mind Your Brain", where we explore the complex love-hate relationship between our minds and our brains.
We go deep down one of the most popular biases in town — Confirmation Bias.
How popular you ask, well checkout this google trends report.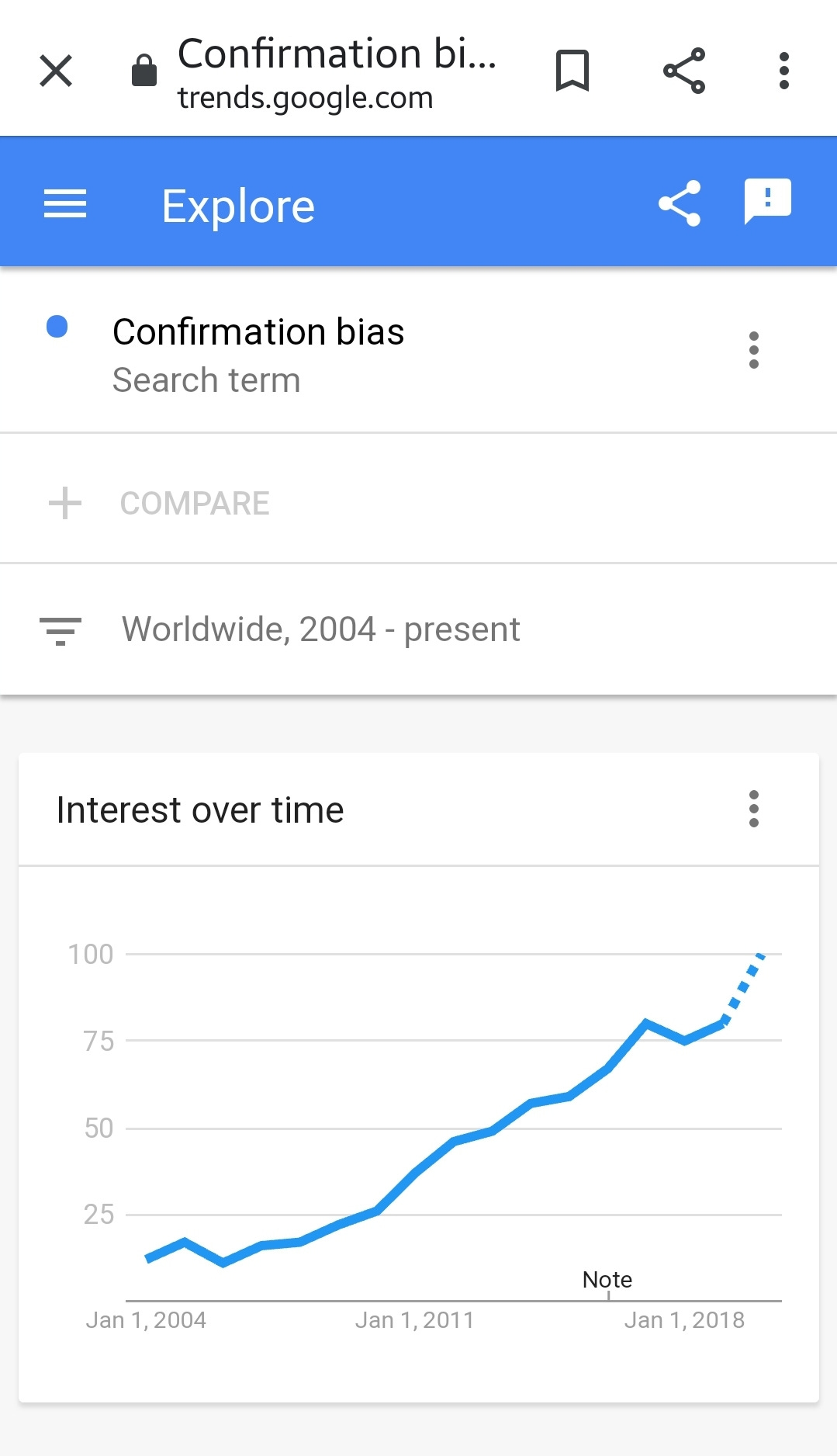 As you can see, interest in the topic had peaked somewhere around 2016, for understandable reasons. Then it settled down a bit, and now it has shot up again over the last couple of years.
Once you start understanding the idea, you start seeing it everywhere. You start using it to explain a lot of what goes on in the world.
But what is Confirmation Bias really? and what about other ideas around it, like Echo Chambers and Filter Bubbles? What are they?
Lets find out.
---
A Filter Bubble is the idea that we only encounter opinions on the internet which are very similar to our own. The various social media algorithms tune their recommendations to serve us content that they already know we like.
You see, your beliefs are formed over a lifetime of varied accumulated experiences. They are always a "work in progress", constantly evolving and changing.
Exposing yourself to fresh thoughts from diverse people ensures that you constantly upgrade your thinking and your models of the world.
But your echo chambers prevent you from doing that. They ensure that you don't receive any diverse opinions and keep reinforcing the same stale beliefs that you already have.
This makes you angry, anxious and constantly stressed out.
You become full of resentment towards the world. You start getting enraged at the silliest of arguments and are ready to spew hate at anyone daring to cross your path online.
So its important that we use our minds to rein in our brains.
Today on The Wisdom Project we discuss ideas around Confirmation Bias, Echo Chambers and Filter Bubbles. And what we can do to combat them.
Click below to read the complete post👇👇 👇
---
What you just read was an intro to Wisdom Letter #49, you can read the whole thing by pressing the "Read Now" button above.
Tell us what you liked or disliked about today's letter. We really appreciate all the responses that we get and are hungry for more.
Hit reply and lets get talking.
Thanks for reading, see you next Sunday.
Ciao
Aditi & Ayush