Discover more from The Wisdom Project
Read better, think better, live better. Actionable insights for multi-passionate generalists. Lessons from the best books, podcasts, articles and more. 1 value packed email per week.
The 'Right' Swipe (Revisit)
Wisdom Letter #59 | The One About Falling in Love ❤️
Hello and welcome to The Wisdom Project — your weekly dose of human curated wisdom in a world full of algorithmic noise.
Today we are talking about romantic love. We did a two part series back in February around Valentine's day where we tried to gain some wisdom around love and relationships.
These are pieces of content that we go back to often and that add a lot of value to our own relationship. Hope you enjoy them as much as we do :)
---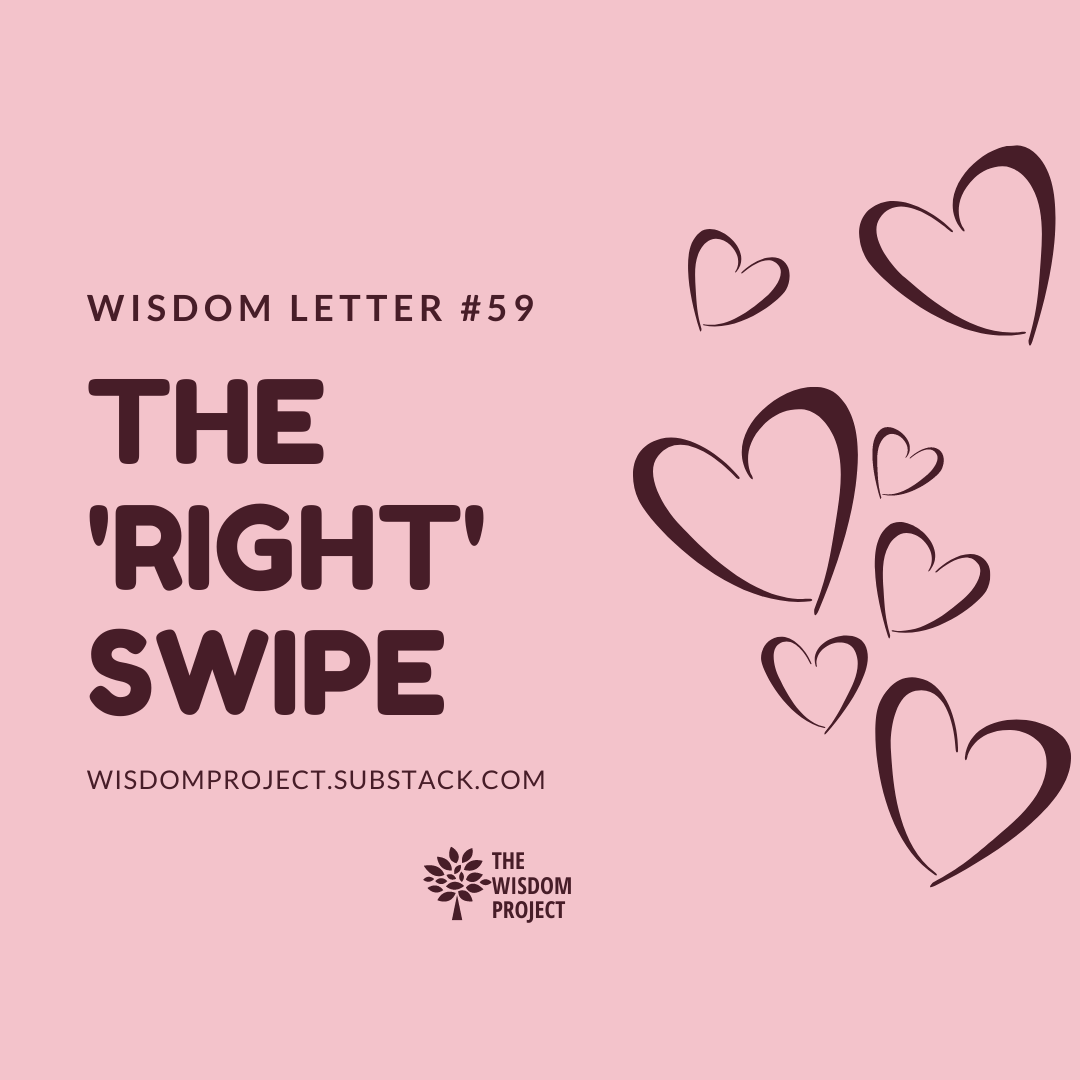 Do you Love someone?
How do you even know that you do?
Is it some divine intervention? A higher power telling you that this is The One? Or is it the grey matter in your brain flush with chemicals? Or is it your well reasoned rational choice? (If at all such a thing exists!)
And even if you do indeed feel true Love for The One person at some point in time does that feeling keep up with itself over a long period of time? Does is sustain for the rest of your life? Is it the same even after waking up next to the same person after the 10,000th day?
And if it is then what makes this inhuman feet possible.
We are well into "Valentine's Week"- The huge build-up to Valentine's day that marketers would like us to live up to. An artificial event created just so we can feel the emptiness inside our hearts and wallets in equal measure.
No, the February air is no different than the other months, except maybe with some variation in terms of the moisture, dust, or the other mundane constituents of air. There is no "Love" in this air. There is no physical evidence of Love, its not a tangible entity.
And yet, we must all try to live up to the artificial standards created by people who want to sell us stuff we don't need to sometimes express feelings we don't have. As Don Draper said - "What you call Love was invented by guys like me to sell Nylons"
But Love is more than that, its more than the flowers, the cards, the confetti, the "Nylons".
In Yuval Harari's terminology, Love is an 'imagined reality'. Its a story we tell ourselves to live better and fulfilling lives. Its an idea that helps sustain society, much like the idea of The Nation, or of Money, or even God and Religion.
In that sense Love is the prism with through which we explore what it means to be human. That's how we give meaning to our unique selves in this crowd of 7 billion. Love is as much about finding oneself as its about finding someone to love.
And that's what we want to do at The Wisdom Project. Today we kick-off our two part series about Love. We will explore the history of Love, its psychology and its bio-chemistry. And we will also talk about the longing and the vulnerabilities that come with it. We will discuss finding love, losing it, and sustaining it. And most of all we will talk about how it can make us better humans, better versions of ourselves.
And we hope by the end of it, we would have taken one tiny step towards finding ourselves.
---
#1
The Happiness Secret
Relationships are a key to a happy life.
You don't need a scientist to tell you that, you can ask your grandma. And its not just about romantic relationships, its all the relationships in your life. Even the professional ones. Your overall happiness and wellbeing is determined by the quality of your relationships. That's what the scientists are saying.
Researchers at Harvard are in the process of the longest ever study on human development. Its been going on since 1938. Its more than 80 years now. They have tracked the lives of their subjects right from early youth to old age and tracked the markers of health, happiness and well-being.
Its a fascinating study and its head Dr. Robert Waldinger gave a Ted Talk about it in 2015 where he talked about the findings of the study. The Washington Post wrote a follow up articles about it in 2016.
Check it out —
What makes a good life? Lessons from the longest study on happiness | Robert Waldinger
(13 mins)
---
#2
The History
While every relationship contributes to our well-being, the way society is structured, our romantic relationships often have the most weight-age to our overall happiness. The history of human evolution is the history of "The Couple". Our ability to be emotionally attached to another human being has played a major role in the survival of the species.
But the history of Love is not romantic. Its equal parts mundane and ugly. Its like how overall evolution is— slow, steady, and most of all, bottom-line-driven. It has a purpose to serve, and it serves it well.
Mark Manson of "Subtle Art" fame is our favorite writer on the topic of Love, and Life in general.
He has written an excellent article on the history of romantic love. His classic irreverent style adds to the brilliance of the piece.
Check it out—
(10 mins)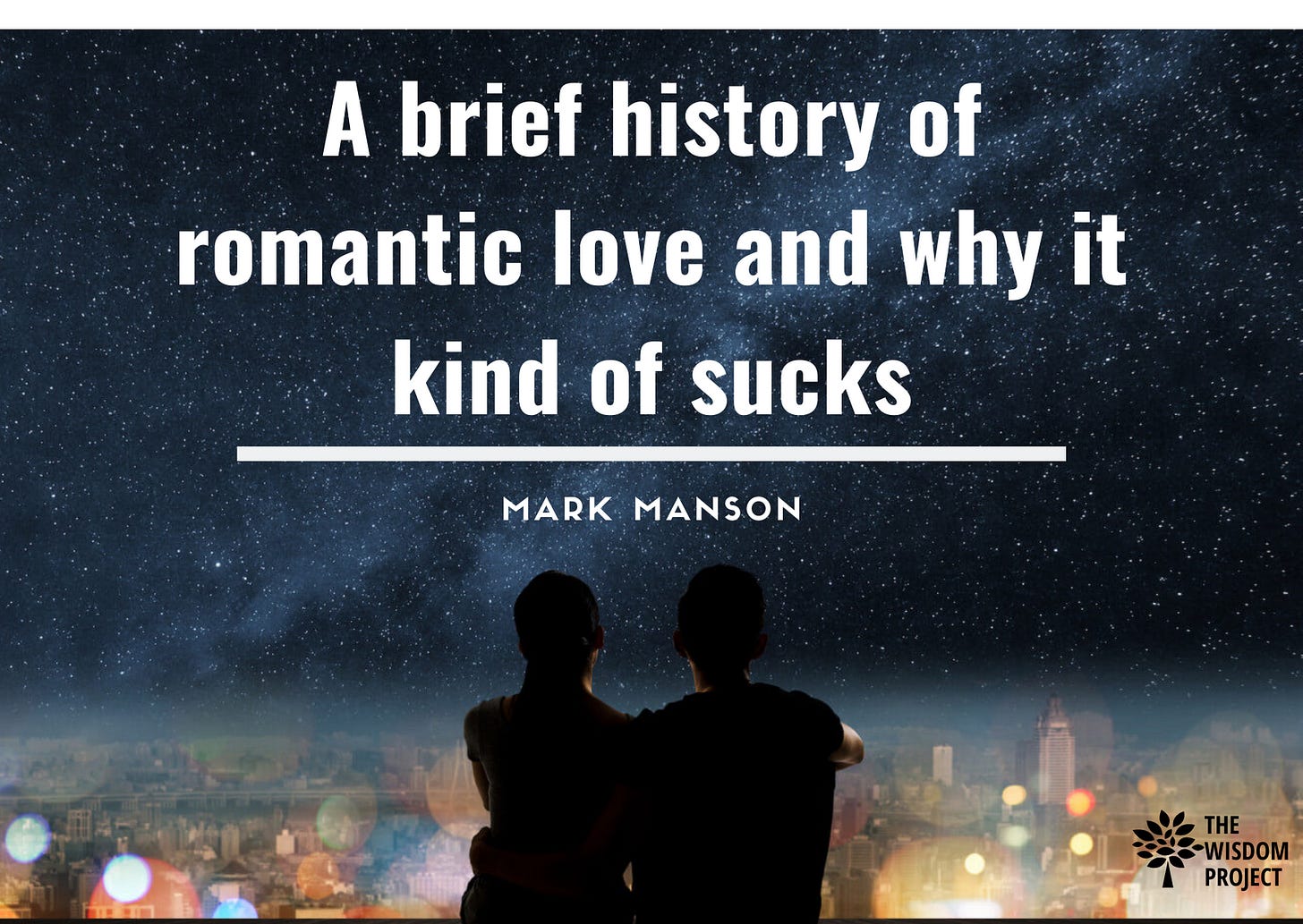 ---
#3
The High
FMRIs are brain scans scientists use to study which parts of the brain are active during a particular experience. They are one of the most effective piece of medical tech that help us in the pursuit of understanding our own brain.
Dr. Helen Fisher used FMRI scans to study the brains of people who have just fallen in love, people who have just had a breakup, and people who reportedly are in love even after 10-15 years of being in a relationship with the same person.
She gave and enlightening Ted Talk 12 years ago about her findings. Turns out, Love is not very different from Cocaine!
It appeals to a very deep seated human desire to affection and belonging. Its part of our reptilian brain that's the most ancient part of our brain. We share it with the apes and most of the animal world.
The bio-chemistry of it is fascinating, it makes you realize how fickle our feelings can be, and why we feel the "high" when we are in love, or why we almost feel physical pain when we are longing for someone.
Check it out—
The brain in love | Helen Fisher
She gave another Ted Talk in 2016 where she talked about how little impact technology has had on what Love means to us. She argues that even in the age of Tinder, Love is still the same old reptilian desire and just the ways in which "find" love may have changed somewhat. The banter at the end with couple's therapist Esther Perel is also a lot of fun. Check it out—
Technology hasn't changed love. Here's why | Helen Fisher
---
#4
Small Talk
Forming a romantic relationship even in the age of Tinder is about having deeper meaningful connections with a fellow human being. Getting to know someone new often starts with harmless small talk on topics such as the weather or the traffic and the commute.
But small talk can be monotonous and dry and does not help in getting to know the other person any better or in any meaningful manner. It can often delay the 'decision-point' where you decide to invest more time with the person or not.
In this NYT article from 2016, writer Tim Broomer talks about how after a breakup he re-entered the dating life with a "no small-talk" policy. He argues that small-talk serves no purpose in a relationship and we can convert any small question into a big talk question by making slight adjustments.
Its an interesting take and an approach worth pondering over. Even when we are in a healthy relationship its important to indulge in deep conversations about our major beliefs and fears. It helps strengthen the bond.
Check out the post—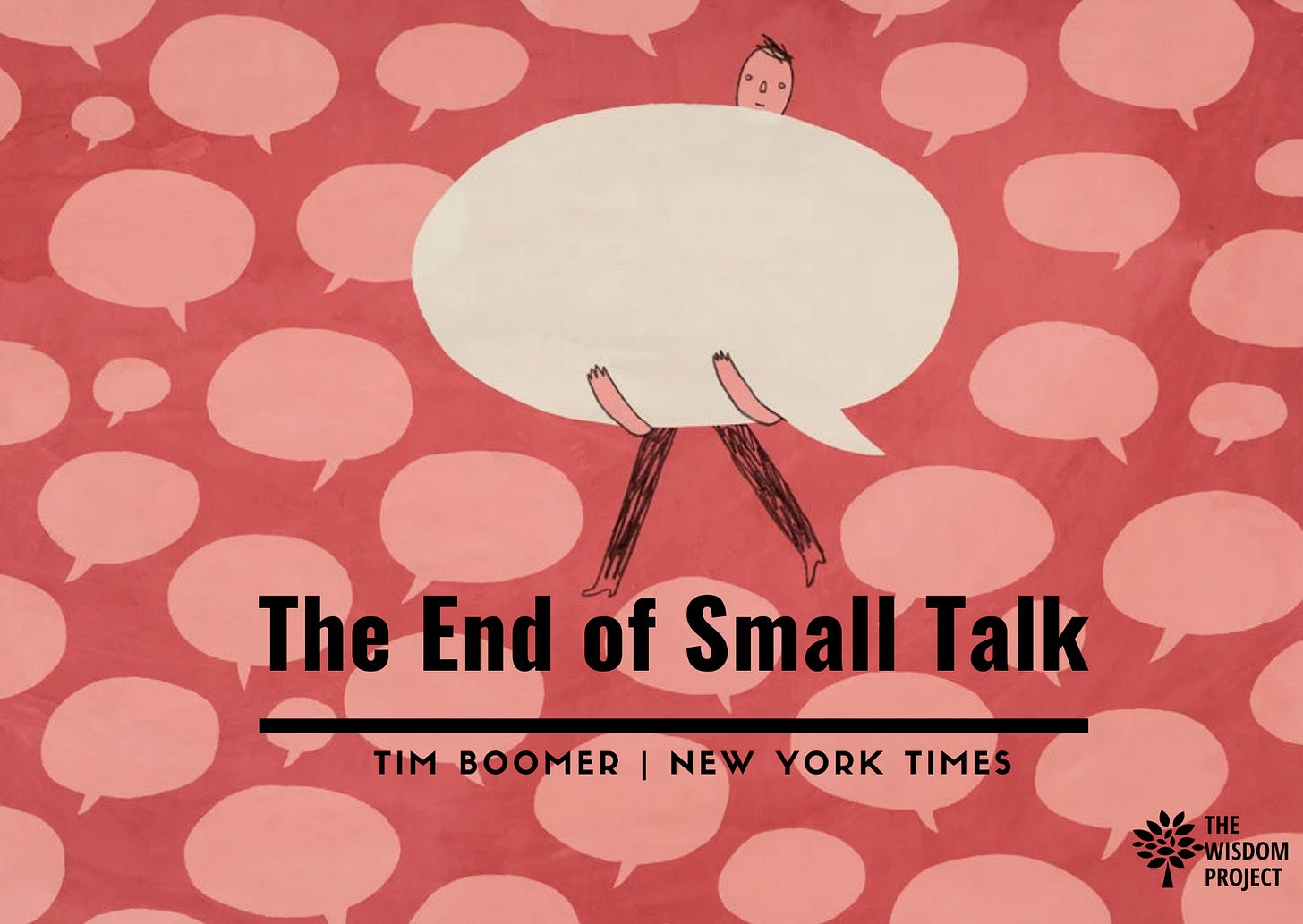 ---
#5
Bot Love
We live in the age of the Algorithm. Algorithms are everywhere, they are running everything. From running trades in the stock market to serving up content in our social media feeds. Creativity was considered to be a truly human forte, humanity's last bastion. But now it seems that AI is spreading its tentacles in that area as well. Algorithms are writing fiction and creating art now.
Human-facing algorithms are designed to do just one thing, give us what we want the most. They don't have a conscience or morals. The algorithm doesn't care about my weight, it will keep showing me ads of the best biryani in town if it just gets a whiff that I like it.
As we do more research into how and when our brain craves Love, the day is not far when there will be algorithms that know exactly what makes us 'tick' and how the deepest desires of our brain will be satisfied.
That is the central idea of the 2013 movie "Her". On the face of it, its a futuristic sci-fi story of a guy who falls in love with an Operating System. But there are layers to the movie that are profound. The idea of what it means to love someone, and what it means to be human after all is explored brilliantly.
Why can you not fall in love with an OS?
It knows exactly what you want better than you know yourself, and it serves it up to you at exactly the right time and the right place as you need it. In the movie, the protagonist is just out of painful breakup and is in need of a deep emotional connection, he needs somebody to bond with and that's what he gets from his OS.
Its the kind of a movie that superficially seems ridiculous and too far away from reality. But as you start to peel the layers and dive deep within, you start to feel it being uncomfortably close to reality.
The performances by Joaquin Phoenix(the guy from 'Joker') and Scarlett Johansson(the voice of the OS) are amazing. Their beautiful chemistry makes the story only too believable.
There's a lot to ponder about in this movie, watch it with a loved one this weekend, find it on Netflix—
Her (2013)
(2 hours)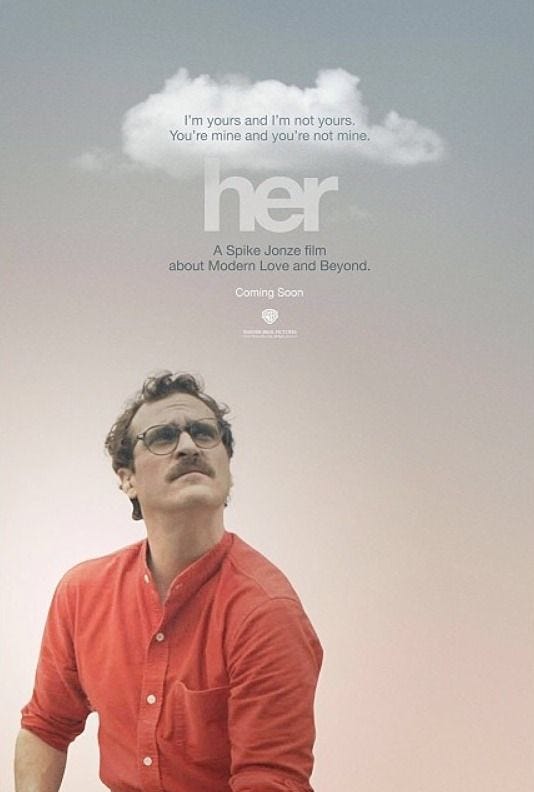 ---
#6
Signing off for the weekend, here's a quote worth thinking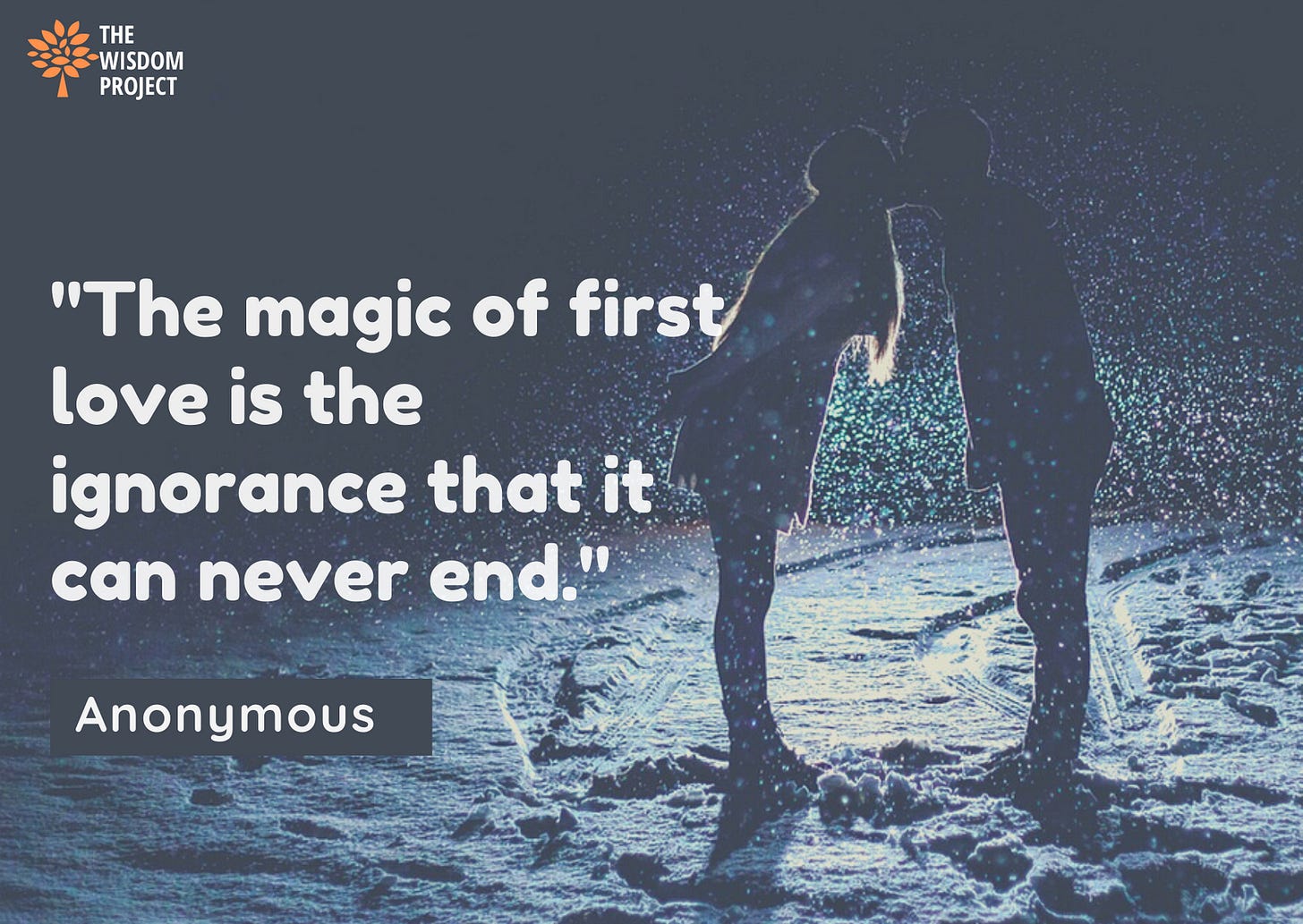 "The magic of first love is the ignorance that it can never end."

—Anonymous
Such is the magic of love that even the wisest of men can act like fools.
Think about it.
---
Signup
If you've received this post from a friend, hit the subscribe button below to receive such Wisdom Letters directly in your inbox next week. It will help you spend your Sundays wisely.
Not an Email person? Subscribe to The Wisdom Project on Whatsapp to receive shots of wisdom directly on your phone.
Or 'Like' us on our Facebook Page. We will be in your feed and stories with byte size pieces of wisdom.
---
Thank you for reading.
Hope you liked today's post, if there are any improvements we can make do let us know by replying to this. We love listening to feedback.
This was Wisdom Letter #59. In case you want to revisit any of the previous 58 letters, checkout our entire archive.
Tell a friend about The Wisdom Project, spread some wisdom :)
Love,
Aditi & Ayush