Discover more from The Wisdom Project
Read better, think better, live better. Actionable insights for multi-passionate generalists. Lessons from the best books, podcasts, articles and more. 1 value packed email per week.
Heat of The Moment
Wisdom Letter #20 | The One About The World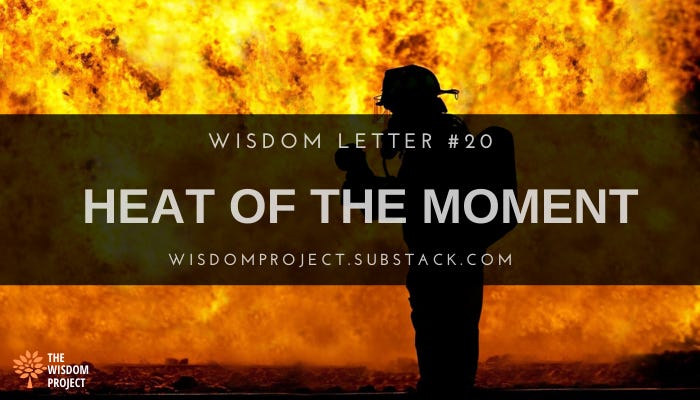 Did you know General Qassem Suleimani before January 3rd?
Honestly, I had no idea who he was, and I won't be surprised if you don't know who he was even today.
Our nature is such that we tend to focus on problems in our immediate vicinity and ignore issues which are geographically distant to us.
Out of sight is usually out of mind.
But often there is a lot to learn from happenings-on from across continents. That is the reason why we like to take a periodic look at geopolitical events and the larger patterns that can be drawn from them.
Today we will look at a few of such patterns.
By the way, General Suleimani was the Iranian General killed by American air strikes on January 3rd this year.
---
#1
General Suleimani was considered the second most powerful man in Iran, behind only to the supreme leader of Iran - Ali Khamenei
Relations between the US and Iran have been sour for a long time. Some say it all started with the hostage crisis in 1979. (Ben Affleck's Argo is based on that).
But American interference in Iran and the growing resentment against it can be traced long before that. This interactive article from the CNN is a good place to start. Its a complicated history that involves American interest in Iran's oil to its nuclear ambitions. And it starts way back in 1951.
Check it out
(8 mins)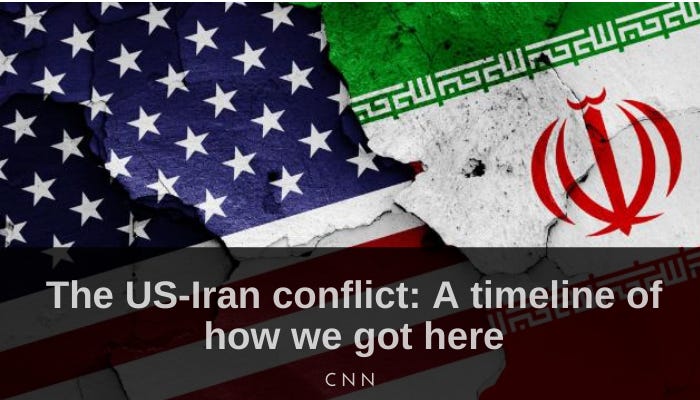 ---
#2
Coming back to the current conflict. Every American president has tried his own methods to deal with Iran. Barack Obama tried diplomacy that failed, and Donald Trump is trying force that may succeed or fail. We will find out with time.
The Economist has done an excellent analysis of the whole issue in their cover story last week. They talk about the US strikes, Iran's counter strikes that killed nobody. What are Trump's intentions behind the killing, and when and how Iran may respond to the events.
My favourite part of the article is this:
In an asymmetric world weak parties often retreat in the face of force, only to return. They have more patience and a greater tolerance of pain than a distant superpower does.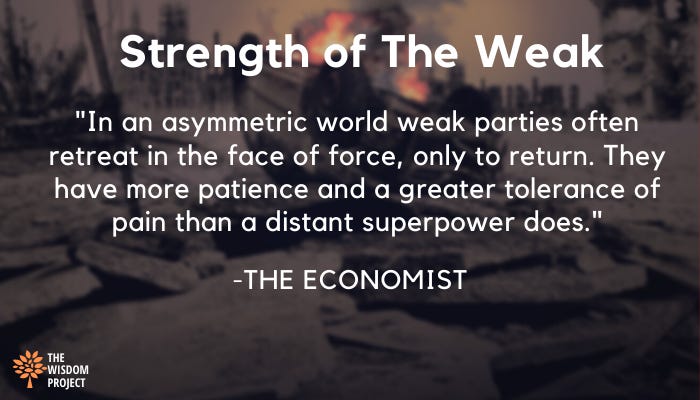 Its international journalism of the highest kind. Its a must read on this issue. Check it out —
(5 mins)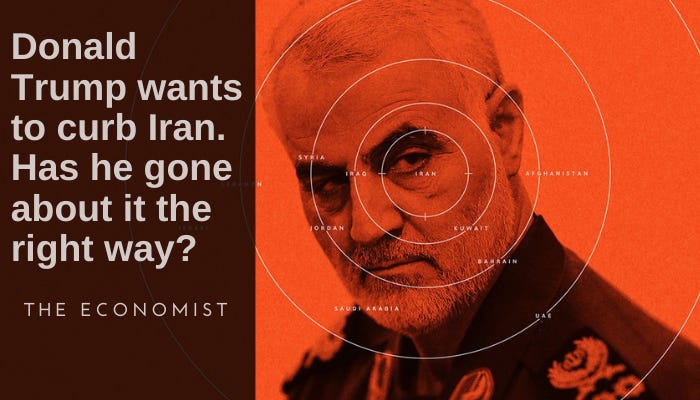 ---
#3
When news broke out of the American attacks, social media was abuzz with hashtags like #WorldWar3 and #IranWantsWar and #WarWithIran.
We all live within our own echo chambers. Our own cocoons of thought and opinion. We interact with people who have the same opinions as us, both online and offline. And within our own echo chambers we are capable of supporting the most extreme opinions without realising that we are missing out on much necessary nuance.
Nuance is often found when we tread a bit outside of our echo chambers and engage with the other side. When we weigh risk and reward of every action and event and stay away from unnecessary jingoism.
Perhaps the biggest victory of Donald Trump is not the victory in the presidential elections of 2016, but the victory in causing the decline of discourse across the political spectrum.
This opinion piece from The New York Times argues, that the anti-Trump echo chamber is as ignorant and impulse-driven and lacking in nuance as Mr Trump himself.
An interesting quote from the piece
…the events of the past week have shown that the anti-Trump echo chamber is becoming a mirror image of Trump himself—Overwrought, uncalibrated and incapable of having an intelligent conversation about any complex policy problem.
Its an insightful piece and resonates with what a friend recently told me — "You become the one you hate".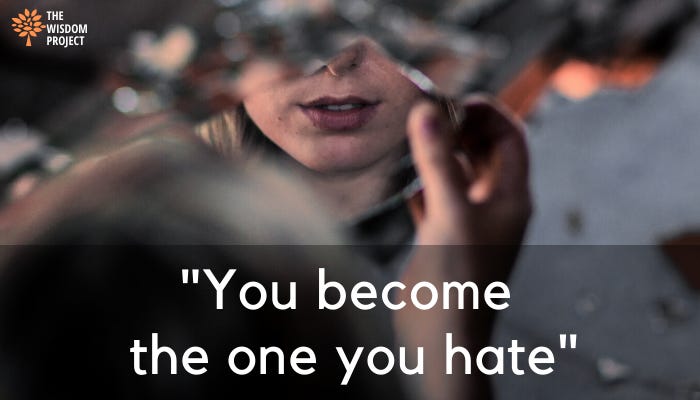 It so deep when you think about it, and it applies to so many scenarios, both politically and personally, its brilliant.
Check out the piece—
(4 mins)
---
#4
Moving on from Trump to another global bully — China.
Last time we talked about China it was in the context of the Hong Kong protests and China's domestic bullying. (Here is the post).
But its no different internationally as well.
Guys at Vox have made a couple of awesome videos in their series Vox Atlas where they look at China's international ambitions and the tactics its deploying to fulfil those ambitions.
China is building artificial islands and setting up naval bases in the south China sea. Its flouting global maritime laws and arm twisting weaker south east asian countries by encroaching in their region. And neither the UN nor the US have any power or inclination to enforce the laws or curb Chinese actions.
(7 mins)
China's Belt and Road Initiative is an ambitious project to revive the ancient silk route that will help China become the hub of international trade and in effect become the next global super power.
In pursuit of this initiative its burdening poor countries with corrupt, authoritarian regimes with debt they cannot repay and gain levers on them which it can use to get strategic power across the world.
The whole project reeks of cunning and malice.
Check out the video
(6 mins)
---
#5
You can ignore all the metaphorical fires burning across the world that we talked about so far, but you cannot ignore the real fires burning Australian forests right now.
Bushfires are a common yearly occurrence in Australia, but these are said to be the worst fires seen in decades. People outside of the country have a very vague idea of what is going on there, and why is it happening. I think a good explainer video is the need of the hour.
Checkout this explainer from TLDR news
(10 mins)
One of the causes of the bushfires is said to be something called a 'positive IOD' - Indian Ocean Diople. Its basically the difference in the sea surface temperature between the western and eastern ends of the Indian ocean. And the strange thing about this phenomenon is that its causing both the fires in Australia as well the floods in east Africa.
Checkout this video from Vox—
(4 mins)
We may live in our own artificial cocoons, both physically and intellectually, and choose to ignore the rest of the world. But nature has fearsome ways of reminding us that we are all connected, and we can't keep looking away for long.
---
#6
Signing off for the week, here's a provocative thought worth pondering.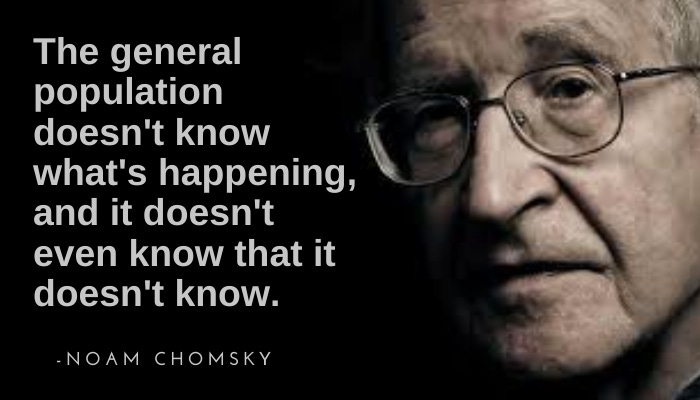 "The general population doesn't know what's happening, and it doesn't even know that it doesn't know."
If you have reached this far then obviously you are not the "general population" or so we hope!
---
If you wish to read more on global affairs, check out Wisdom Letter #9. Its called A World With A View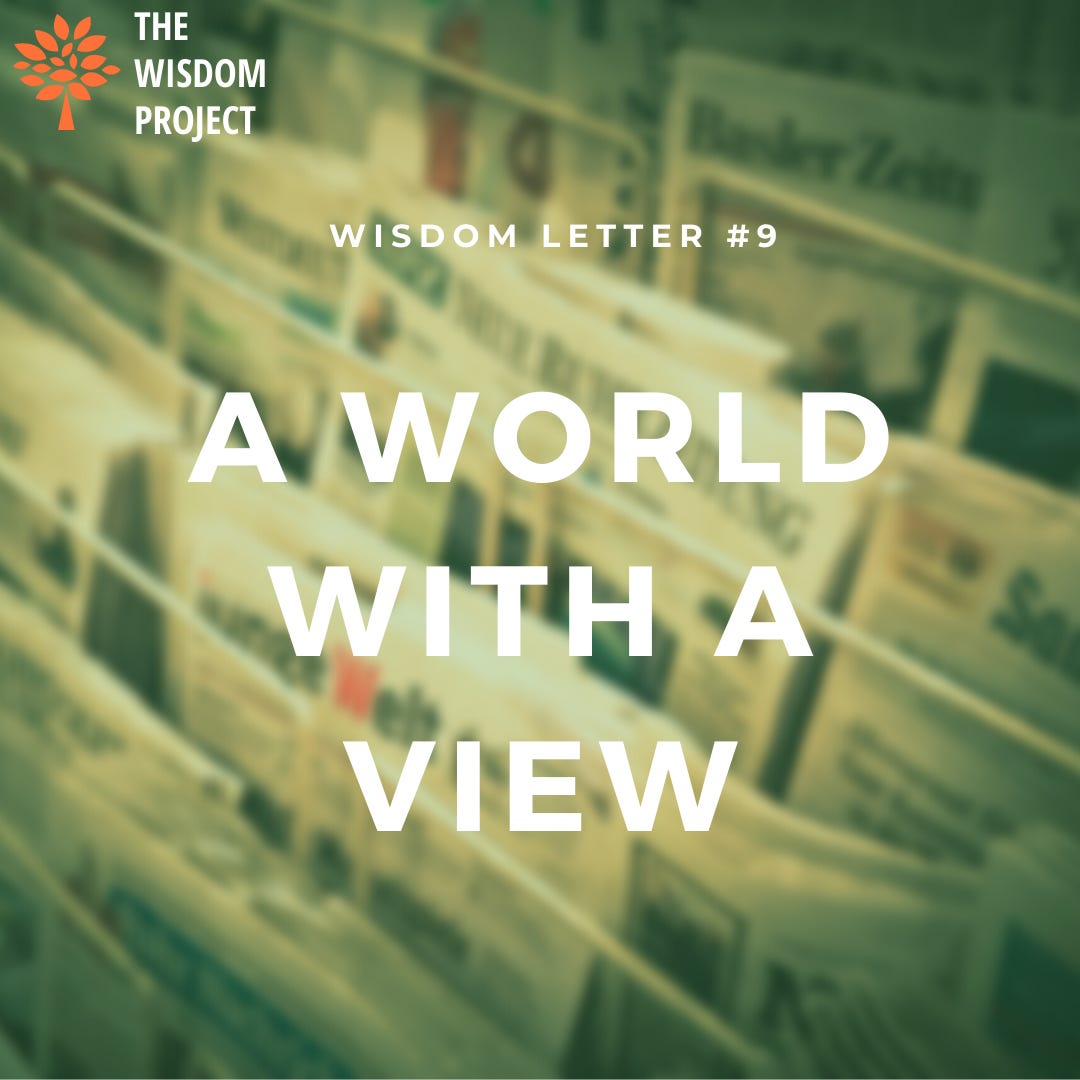 ---
Related:
Left, Right, Left — Wisdom Letter #35
The Fourth Estate — Wisdom Letter #44
---
Tell us what you liked or disliked about today's letter. We really appreciate all the responses that we get and are hungry for more. Hit reply and lets get talking.
Also, please do share pearls of wisdom that you find around the internet. We would love to feature them here.
---
If you are not sure how to consume all of the content we have shared here, checkout the 'how-to' post we wrote — Navigating Rough Seas
We made public lists of all the content we share for ready reference. Check them out—
Books as Amazon Public Wish-list
Articles as Pocket Recommendations
Videos as YouTube Playlist
---
This was Wisdom Letter #20. In case you want to revisit any of the previous 19 letters, checkout our entire archive.
And if you're wondering why we are doing this project, what is the point of it? checkout the intro post, it might make some sense!
---
If you liked what you just read, hit the subscribe button below to receive this Wisdom Letter directly in your inbox next week. It will help you spend your Sundays wisely.
And if you are already a subscriber, please hit the heart icon at the bottom of this post to show us some love.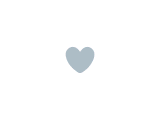 Wisdom is like love. It spreads when you share it with someone. Tell someone about this post and spread some wisdom :)
Ciao
Aditi & Ayush
---
Disclaimer:
None of the links that we share here are affiliate links. We don't intend to make money off of your purchases of any books or products that we recommend. These are honest recommendations that have worked for us and we share them without any ulterior motives.