Discover more from The Wisdom Project
Read better, think better, live better. Actionable insights for multi-passionate generalists. Lessons from the best books, podcasts, articles and more. 1 value packed email per week.
Lessons on Love
Wisdom Letter #12 | The one about relationships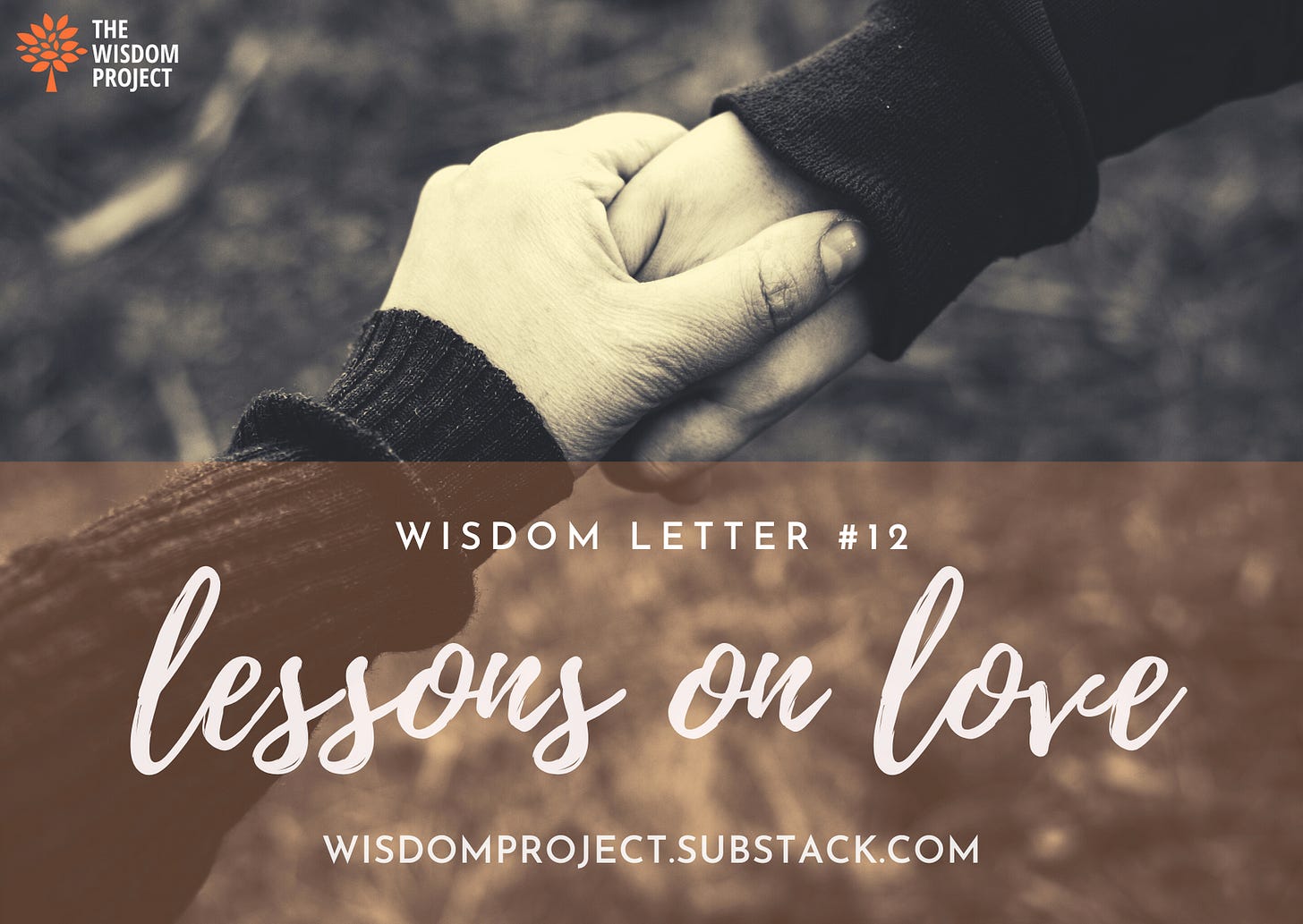 The L-Word
What is Love?
Is it an infantile infatuation or a deep emotional bond? Does it manifest better as a life-long companionship or as a one night stand? Is it something surreal, something spiritual, much bigger than our physical selves can comprehend, or is it just a bunch of chemical reactions going on in our brain?
We are talking about romantic love today, the kind that can take you to the heights of the Everest and to the depths of the Black sea with equal probability. That can give you a high better than crack cocaine, or pain worse than losing a limb. That can have you flying unicorns in ecstasy or swimming through a sea of fire in misery.
And sometimes all of that within a span of a day, or a lifetime.
Love also gives us the concept of relationships. Two people spending time with each other, enjoying each other's company, thriving individually as a result of the shared love.
A relationship between two people is like an organism in itself. It has its own needs and desires. It has its own personality. Its like a plant, if treated well and cared for, it helps both partners grow and evolve and become the best versions of themselves, giving fruits for a lifetime.
But if left alone to fend for itself in harsh weather, it can gradually wilt and die out before we realize. And when it dies, a part of us dies along with it. We lose chunks of our innocence, naiveté, and charm. Our inner child loses bits and pieces of hope with the loss. It becomes more skeptical and anxious about the world, leading to growing resentment and frustration.
So its important to nurture our relationships. To love them, to care for them, and to treat them with respect and adoration they deserve and demand.
---
#1
Do you know why we love?
There are many answers to that question, I guess every person on the planet can have a unique answer for why we love. Philosophers have grappled with it for thousands of years. From Plato to Buddha to Bertrand Russel, all have argued in favour of either the futility or the utility of love in our lives.
This video from Ted-Ed is a good primer on how humanity has tried to explain the mystery of love over the ages.
Check it out—
(6 mins)
---
#2
Psychologists have tried to study at depth what makes us fall in love with someone. And while there's a lot of brain chemistry involved, there's also the need to be deeply vulnerable with each other.
Vulnerability is the key to building trust. And trust is the foundation of strong, deep love.
While we build this trust, and in turn love, over long periods of time in a relationship, scientists argue that we can short circuit the process with 36 questions over 90 minutes.
Dr Arthur Aaron's study claims that you can fall in love with almost anyone given the right hormones and answering the right questions.
Mandy Len Catron wrote a piece for the New York Times 4 years ago where she experimented with the 36 questions while on a date, and did in fact end up falling in love with her date.
She has written a fascinating article reporting her findings of the experiment.
Check it out, and try out the 36 questions yourself with your partner, its a surreal experience—
(7 mins)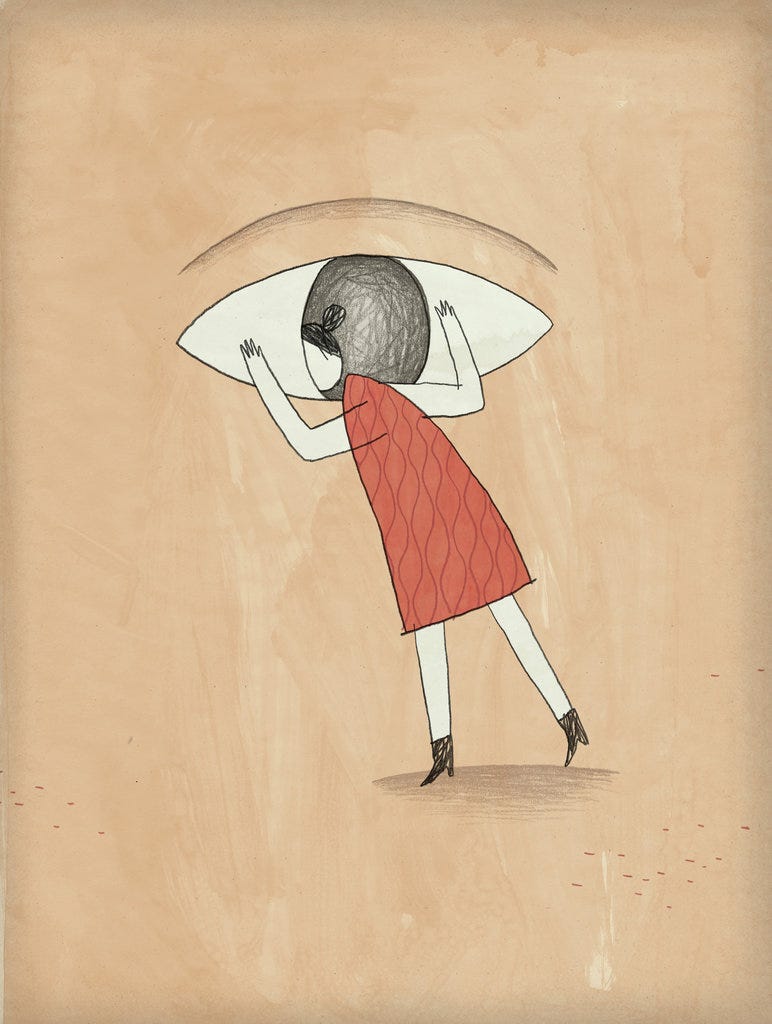 ---
#3
Staying in love is often considered more difficult than falling in love.
It takes a deeper commitment from both partners. There are cycles of ups and downs over a long periods of time. Cycles might be an understatement here. A long term romantic relationship is like an emotional roller-coaster, and we are often ill-equipped to ride this roller coaster.
Often we need help during the ride, thankfully the world is full of experts who are eager to provide any kind of help we need.
One such expert is Dr. Sue Johnson. She is a clinical psychologist and specializes in couples therapy, she has written multiple books on the subject. Her conversation with Shane Parrish on The Knowledge Project podcast is truly enlightening.
Do take a listen—
Cracking the Code of Love
(120 mins)
Read the highlights of the podcast or listen in your browser
(4 mins)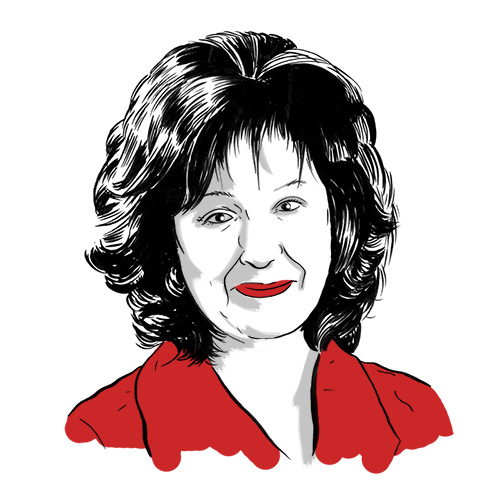 ---
#4
Perhaps the biggest challenge of a relationship comes when its incumbent on the couple to think about marriage.
Its the biggest decision that most people will take in their life, so the stakes are very high.
It has become so high stakes because of the halo effect that society has created around the institution. We can still choose to ignore society and avoid assigning so much importance to marriage. Heck, we can also avoid marriage altogether and still have the best that the relationship has to offer. But most of us choose to bite the bullet and give in.
So it is what it is.
The problem is though, that even after making marriage such a high stakes affair, society has not provided the individuals with a blueprint to make that decision.
The rules of marriage are laid out precisely for us, they are even part of our laws. But the rules of how to make that decision are not clear. In lack of an accessible playbook people often outsource the decision to someone else, or take the decision based on their instincts, or gut, or after much careful deliberation through their brain.
Tim Urban of WaitButWhy has an interesting take on the way people make this decision. Like most of his writing, this blog post too is thought provoking. It forces us to think about ourselves, about how we make decisions, what we do when its crunch time and we are supposed to take high stakes decisions in life. And best of all, he does an excellent job of clarifying how complex the decision of marriage actually is.
Check it out—
(20 mins)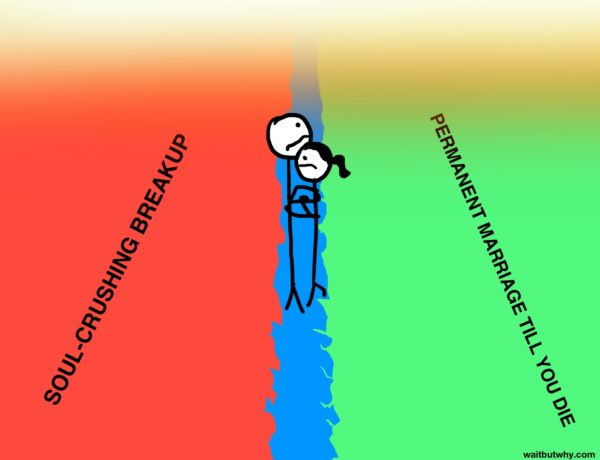 ---
#5
There's plenty of relationship advice available to us at all times. But often it seems that the person giving us advice doesn't really understand us personally. The advice seems very generic and lessons very superficial and basic.
Of course, how can someone truly understand who we are and what we are going through.
But the more you talk to people who have been in long term relationships you realize that a lot of good advice is actually pretty common sense. And we would even follow it diligently if only someone gave it to us in a casual, honest, understanding tone.
The thing about advice is, the how is often as important as the what.
Mark Manson of Subtle Art fame has cracked exactly how to give life advice. His tone is casual and honest and he ends up explaining profound ideas in the simplest of language.
He also has thousands of followers.
So 2 years ago he wrote a post for the Quartz where he asked his followers for advice on how to have a healthy, happy, long term relationship.
The responses are amazing, the whole article contains 13 lessons that are essential for a happy long lasting marriage. And dare I say, this is all the relationship advice you will ever need.
Its a long read, so get yourself a cup of coffee, sit back in a comfortable chair, and get going. (It helps if you read this with your partner close by and discuss the ideas point by point)
Check it out—
(40 mins)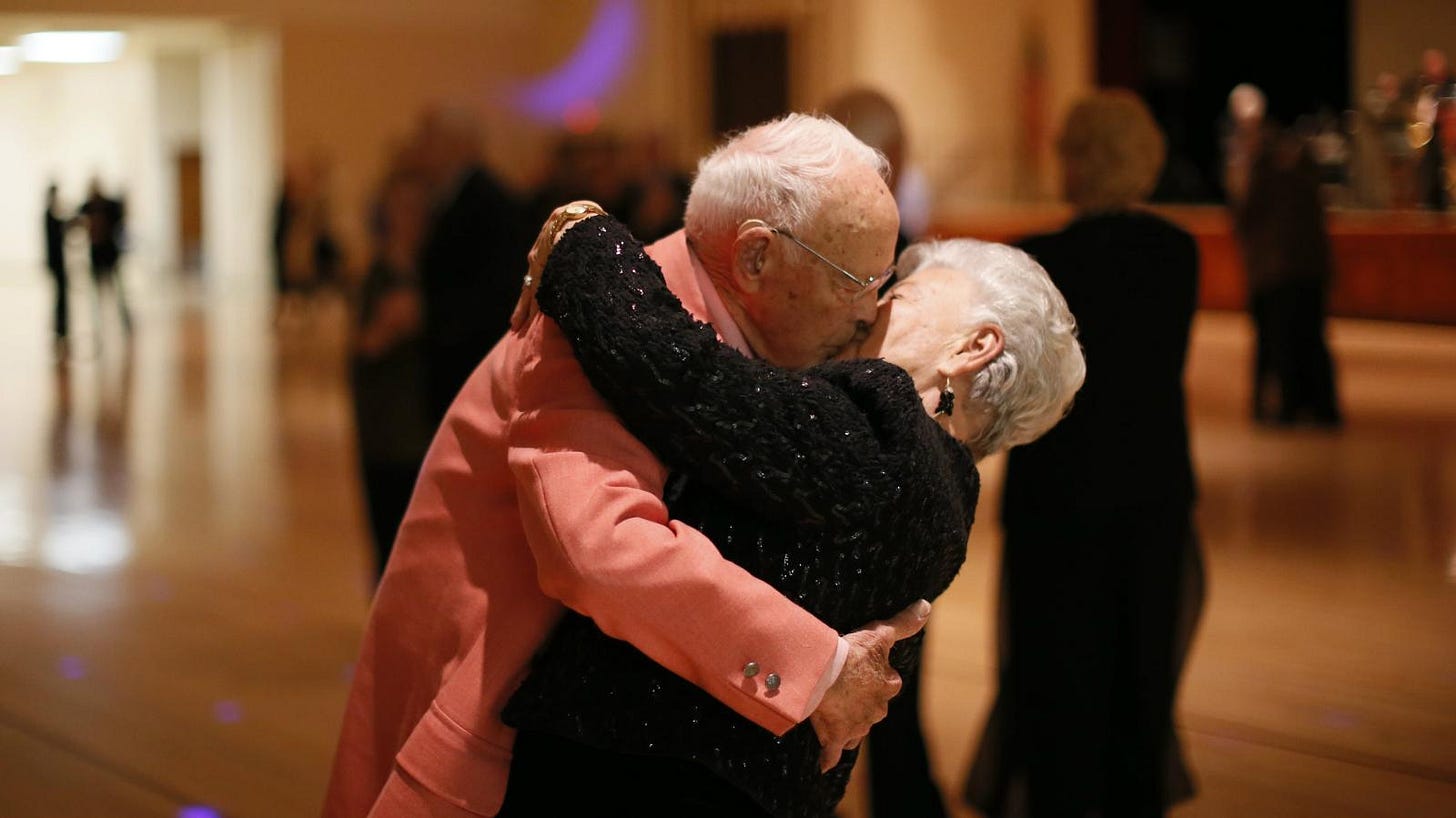 ---
#6
Signing off for the week, here's a quote worth pondering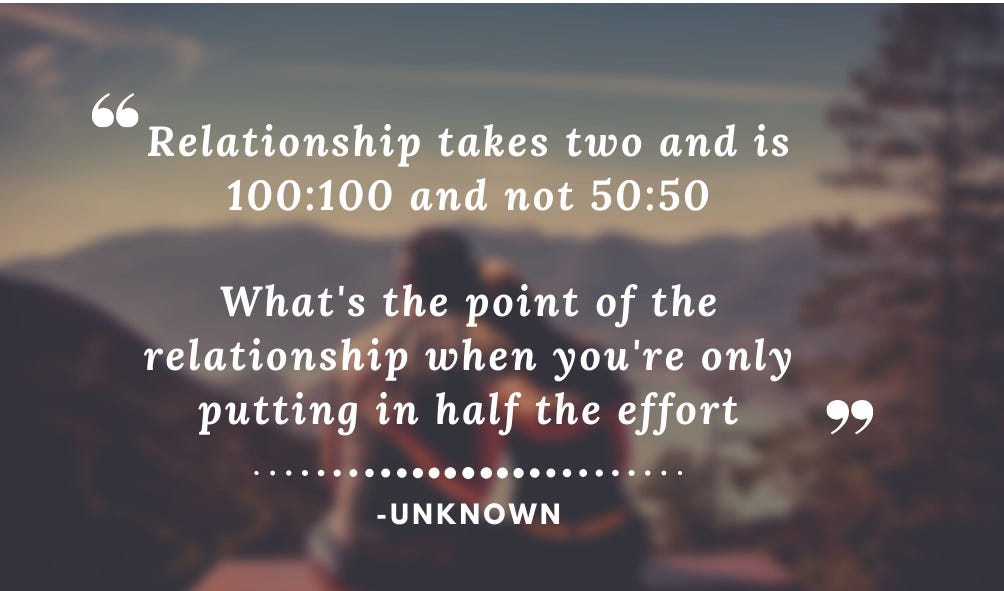 Relationship takes two and is 100:100 and not 50:50

What's the point of the relationship when you're putting in half the effort

— Unknown
This is an interesting idea to wrap our heads around. We tend to think of relationships as only 50:50, while in fact many a times they are 100:0. And many other times they 0:100. As partners its our job to recognize when we are required to do the 100 and when our partner is doing the 100. Life is full of ups and downs, so is our contribution in a relationship, we can't limit ourselves to 50%, we have to go all in.
50:50 is a transaction, 100:100 is what we call love.
Think about it!
---
PS
December is approaching. Its the last month of the year, heck, of the decade. Within 37 days we would be stepping into a shiny new decade, the 2020's.
So people's resolutions this time on New Year's eve will be grander than ever. And the likelihood of people failing on their resolutions will also be exponentially higher than every year.
We, at The Wisdom Project prefer long term processes over one time resolutions. Processes that help us become the best versions of ourselves. We want to use this December to double down on this motto.
So posts from next week and all through next month will be around the idea - "My Best Self". We will explore various themes around this idea, themes ranging from habits and human behaviour to the art of decision making, to the pursuit of finding happiness.
Keep an eye out for the posts every Sunday 8 AM. "My Best Self" all through December.
---
If you liked what you just read, hit the subscribe button below to receive this Wisdom Letter directly in your inbox next week. It will help you spend your Sundays wisely.
And if you are already a subscriber, please hit the heart icon at the bottom of this post to show us some love.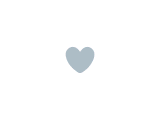 Wisdom is like love. It spreads when you share it with someone. Tell someone about this post and spread some wisdom :)
Ciao
Aditi & Ayush
---
This was Wisdom Letter #12. In case you missed last week's letter, check it out here- #11 its called "Penny Wise, Pound Wiser".
Check out our entire archive.
And if you're wondering why we are doing this project, what is the point of it? checkout the intro post, it might make some sense!