Discover more from The Wisdom Project
Read better, think better, live better. Actionable insights for multi-passionate generalists. Lessons from the best books, podcasts, articles and more. 1 value packed email per week.
The Infinite Scroll
Wisdom Letter #24 | The one about Rising in Love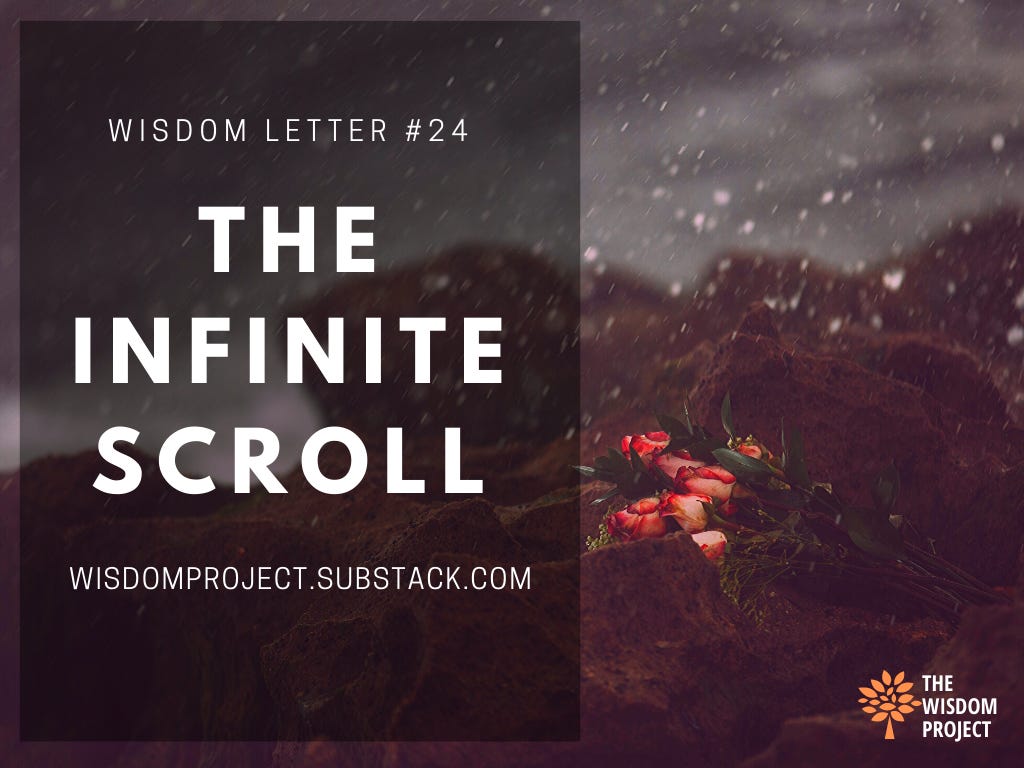 "Do I even know this person?"
That's a phrase thats been used by many people for their spouses in long term  romantic relationships.
And its been said more out of exasperation than awe in most cases. The nature of long term relationships is such. The more we spend time with each other, the more details we find out about each other. Details that are good, bad and most of all, ugly.
Add to that the fact that change is an unsaid law of nature. People change with time, either deliberately, or unsuspectingly-in the natural flow of life. They change in their attitudes, in their tastes, their likes and dislikes, in their politics as well as in their beliefs and desires.
What happens when the magnitude of change is so much that in 10 or 15 years your spouse fails to recognise you as the person they once loved?
Is Love a feeling for a dynamic person capable of change, or is it for an "idea" of a person fixed in time and space? Do you love your spouse or do you love the "idea" of the person that you want her/him to be? And that idea is set in a distant past, only solidifying more with time and an unreliable memory.
This is of course one extreme end of the spectrum, the other extreme end where many couples find themselves at is the devil of boredom and monotony. They feel they are stuck in a 'rut' and they start seeking out adventure and thrill in response. 
Relationships are like the infinite scroll of our favourite social media feeds. We want the same familiar user experience that we have been used to for years, but constantly seek out novelty in the content of the items being served to us. Almost an impossible expectation from any single person or feed.
They say every person has more than 2 or 3 relationships throughout the course of his life. Some have one relationship with 2 or 3 different people depending on the stage of their life, while others have 2 or 3 different relationships with the very same person.
Think about it.
Humans are dynamic complex beings bound by the laws of evolution. As humans evolve, so do their relationships, and so should the parameters of those relationships. And yet often highly mature relationships are measured based on the parameters of "young love" or "college romances" which lead to unnecessary friction and heat.
Today as we conclude our two part series on Love, we look at the challenges a modern long term relationship faces and what we can do to overcome those challenges. We will also see what happens when healthy loving relationships are cut short abruptly and how do we deal with loss and longing in our great love.
As we saw last week, Falling in Love is inevitable and terribly easy (you can even fall in love with an OS), today we will explore how we can Rise in Love and lead a happy, healthy and fulfilling life.
---
#1
Vulnerability is at the heart of Love.
We fall in Love when we are our most vulnerable selves. The version of us that falls in love is not the one who goes out to buy groceries everyday or who indulges in shouting matches at the traffic signal.
The circumstances or expectations of a committed relationship end up burdening the Love between a couple. Sooner or later, the warmth between two people dries up and is replaced by the challenges of managing the 'logistics' of a family. 
And we feel we are 'bored'.
This article from 'The book of life', takes a look at why we go 'cold' on our partners and what we can do about it.
Its a beautifully written piece and observes very deep, delicate human emotions that we often miss in our day to day lives. Check it out--
(4 mins)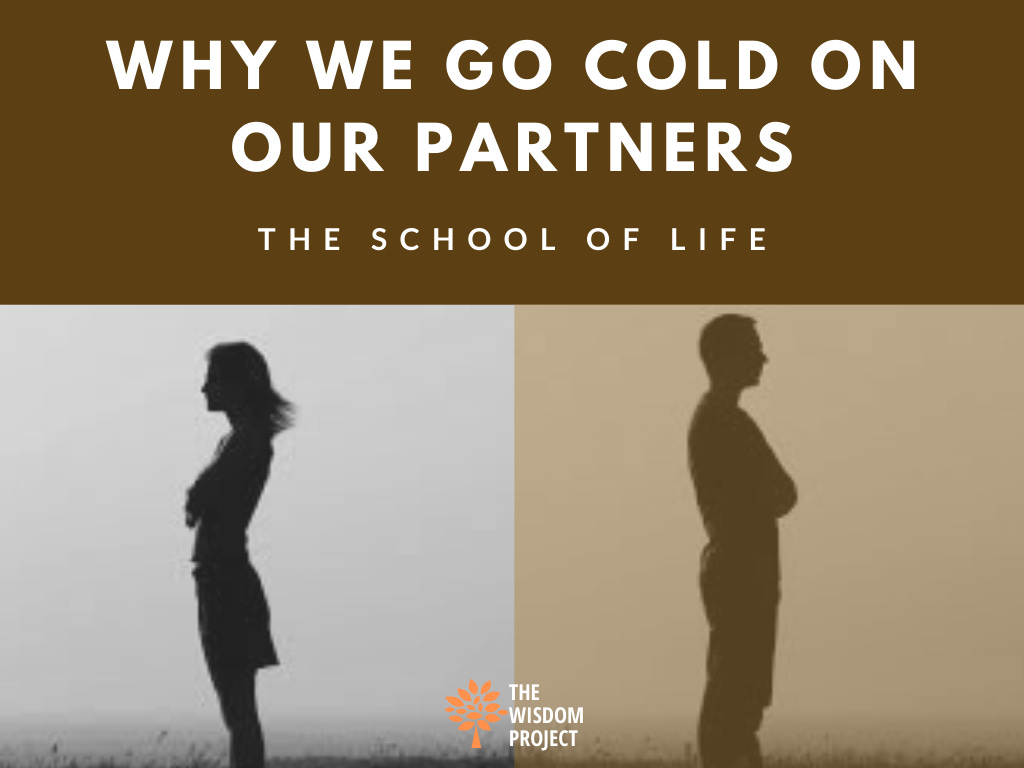 ---
#2
There's a difference between just surviving at life or thriving and really living life. We intuitively understand that. Same is true of our Love. There's a difference between mere sustenance and blissful pleasure.
Esther Perel is a best-selling author, a world renowned couples' therapist and relationship expert. 
In this podcast with Shane Parrish she explores the practical approaches for a healthy romantic life. She also talks about the lessons she learned from two parents who were holocaust survivors and how their experiences of life in a concentration camp changed the place of relationships in their lives.
Its a wonderful discussion that throws a lot of light on the anatomy of a relationship, its a must for all modern couples. Check it out --
(1 hour, 18 mins)
Read a short summary here.
---
#3
Richard Feynman is an epitome of rationality and logic.
He was a genius American physicist who even worked on The Manhattan Project during World War II. Feynman is famous for his love for science and his fascinating ability to explain complex scientific topics with cold hard logic.
So when his biographer found an old love letter that Feynman wrote to his wife, it came as a great suprise. The wonder only grew when it was discovered that the letter was written two years after his wife had already passed away.
Its a short letter that touches you deep inside the heart. Its an Ode to Love and the purpose it serves in our lives, and it proof that Love is an ailment that affects even the best of us.
Here's an excerpt from the letter -- 
"...And now it is clearly even more true-- you can give me nothing now and yet I love you so that you stand in my way of loving anyone else -- but I want you to stand there. You, dead, are so much better than anyone else alive..."
In this article for her blog Brain Pickings, Maria Popova brilliantly sets the context of the letter that enhances the impact it has on the reader. It also explains the warm romantic love that Feynman and Arline harboured for each other.
Check out the article and the whole letter within --
(12 mins)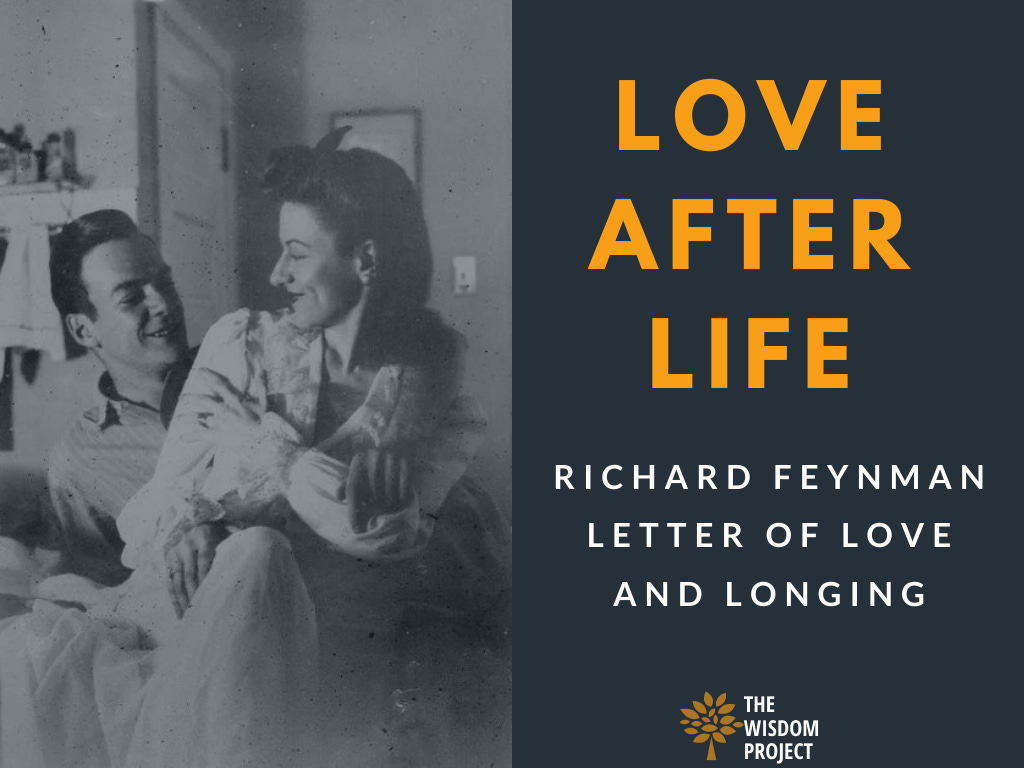 ---
#4
Relationships have a life of their own. Some people say that you have to treat the relationship like a child, love and nurture it like a child. And there is a natural flow to them as well that we are used to. Right from being young and fresh, to middle-aged and stable, to old, frail, weakening and finally dead. We anticipate and accept the ultimate slow end of relationships with the end of life of one of the partners.
But what happens when there is a sudden end, and what happens if your partner is hanging-by on life support? Is the relationship alive or dead? Or somewhere in between?
And what do you do then? How do you deal with the loneliness and sadness that a loved one on life-support brings. And what do you do when you are being asked to pull the plug?
These are some of the questions that the movie 'Waiting' tries to raise.
Its a story of two people whose spouses are struggling between life and death and who become friends in the loneliness that they must suffer in a hospital waiting room.
The movie forces you to think about all the conversations that you have never had with your partner, and how the fickleness of life can take away everything you treasure in an instant. Its a heart touching story of Love, life and longing. And its studded with brilliant performances from Kalki Koechlin and Nasseruddin Shah.
Check out the trailer --
Find the movie on Hotstar.
---
#5
Signing off for the weekend, here's a quote worth pondering, from one of our favourite love stories - The Notebook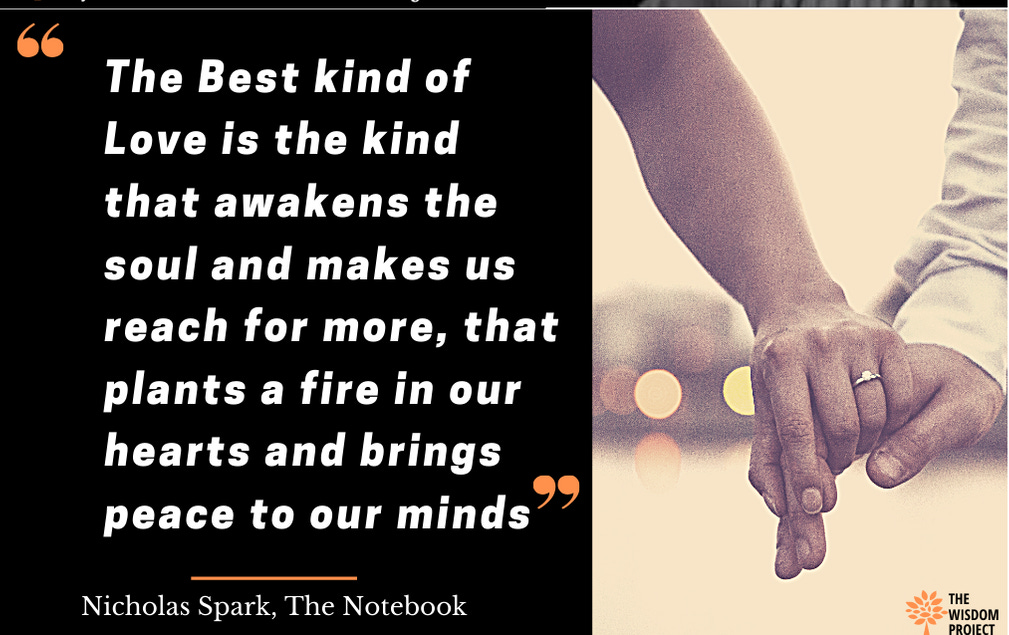 "The Best kind of Love is the kind that awakens the soul and makes us reach for more, that plants a fire in our hearts and brings peace to our minds"

-- Nicholas Spark, The Notebook
Love can be the ultimate force that brings the best out of us, but it also needs investment of time and effort and emotion and vulnerability. Its true that it needs constant care and nourishment, but  its also true that we rise in Life when we rise in Love.
Think about it.
---
This was the conclusion of our two part series on Love this Valentine's week. Checkout the first part in case you missed it--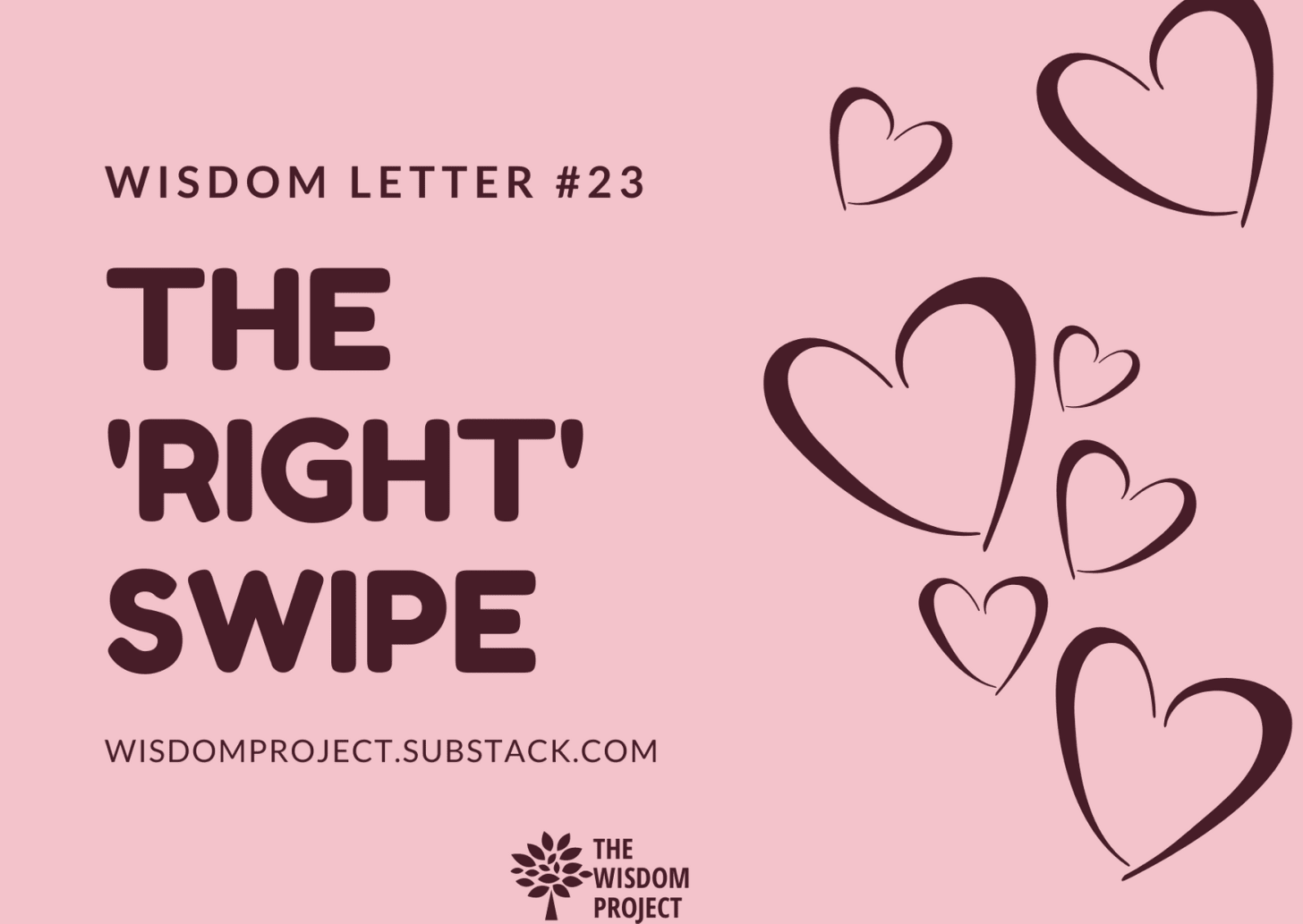 ---
Tell us what you liked or disliked about today's letter. We really appreciate all the responses that we get and are hungry for more. Hit reply and lets get talking.
Or
Reach out to us on facebook
If you are not sure how to consume all of the content we have shared here, checkout the 'how-to' post we wrote —
We made public lists of all the content we share for ready reference. Check them out—
Books as Amazon Public Wish-list
Articles as Pocket Recommendations
Videos as YouTube Playlist
---
This was Wisdom Letter #24. In case you want to revisit any of the previous 23 letters, checkout our entire archive.
And if you're wondering why we are doing this project, what is the point of it? checkout the intro post, it might make some sense!
---
If you liked what you just read, hit the subscribe button below to receive this Wisdom Letter directly in your inbox next week. It will help you spend your Sundays wisely.
And if you are already a subscriber, please hit the heart icon at the bottom of this post to show us some love.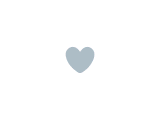 Wisdom is like love. It spreads when you share it with someone. Tell someone about this post and spread some wisdom :)
Ciao
Aditi & Ayush
---
Disclaimer:
None of the links that we share here are affiliate links. We don't intend to make money off of your purchases of any books or products that we recommend. These are honest recommendations that have worked for us and we share them without any ulterior motives.