Discover more from The Wisdom Project
Read better, think better, live better. Actionable insights for multi-passionate generalists. Lessons from the best books, podcasts, articles and more. 1 value packed email per week.
The Paradox Of Rational Choice
Wisdom Letter #36 | The one About Behavioral Science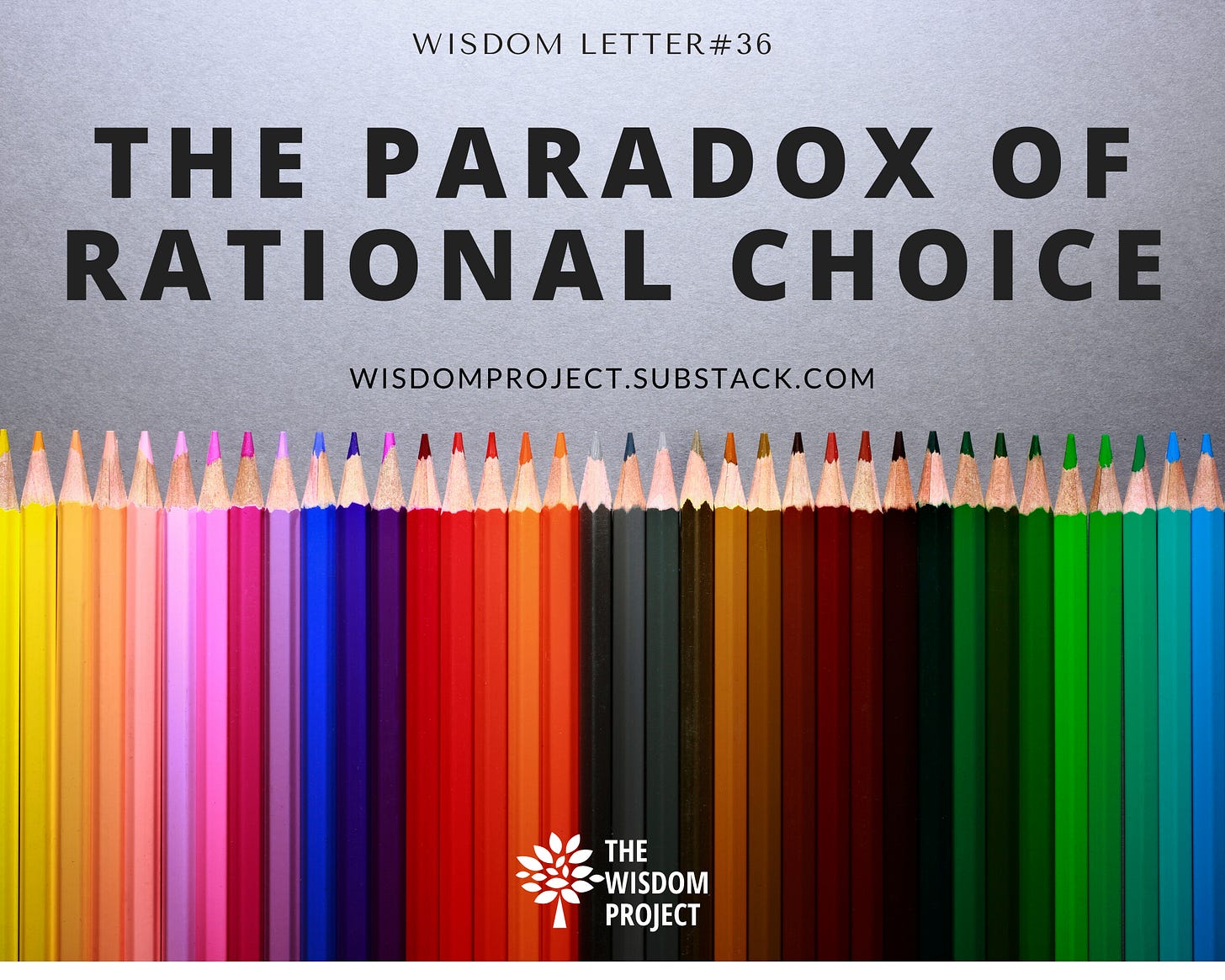 Are you a rational person?
Do you take decisions in a logical, sensible manner?
You would naturally say Yes.
Right. Got it!
So try to think about other people now, those around you, or even far from you.
You know people like politicians, businessmen, your neighbor, your spouse.
Yes, you can see hints of irrationality in their actions. The decisions that they take, often lead to nonsensical outcomes. And you can see those decisions quite rationally.
You can judge their choices, their tastes, analyse them and break down their decisions and criticize them.
Coincidentally, they can do the same to you as well.
They can take apart every life choice you have made and judge your behavior in ways you are not comfortable with.
And those choices will prove to be as irrational and illogical as anything you can muster up about them.
Turns out all humans are wired quite the same, and we carry around the same set of instincts, biases and insecurities within our heads and hearts.
We are not rational, but rationalizing beings.
We take decisions out of instincts and emotions, sometimes just on a whim, or based on our "gut". But we are very good at inventing rationalizations after taking the decisions(that stock you picked when everybody was against it, the person you married or chose not to, that job you took so on and so forth).
We are very quick to come up with reasons that make the decisions look perfectly rational.
These rationalizations make a lot of sense in hindsight and seem very cool to talk about. These are stories we tell to the world and to ourselves about why we did what we did.
The real reason might be just that we "felt" like doing it at some point in the past, but our brain is not comfortable admitting its fallibility.
Any action that anyone ever takes can fit this model. And that includes reading and writing obscure blog posts like this one.
And yes, this applies to our inaction as well. If I skip a work out tomorrow morning, I can easily invent reasons that make it seem perfectly logical. ( I needed the break after a 6 day streak, right?)
We must realize that what we "felt" like at some point in the past was a product of a complex set of factors.
It depended on the kind of environment we were in, the people we were surrounded by, the food we ate, the kind of sleep we had the night before, what we had read, watched or listened to online and many more such external/internal events.
By changing our environment, our behavior can be manipulated.
Companies that want to sell you anything have been using behavior science for a long time.
Supermarkets have been known to influence consumer behaviour by designing environments that nudge you into making more irrational purchases.
The digital companies of today, often don't have much to sell to you. Instead they employ the best designers and engineers in the world to make products that help them sell You.
For example every time you click on a button on Facebook, you are profiled as a person who does a particular kind of action. And that information is used to sell your "feed space" to digital marketers wanting to display ads to you.
(Right now, FB ad space can be bought to reach out to audiences who "Like" more pages, or who "Share" more posts, or who "Comment" more on posts. A marketer can fine tune exactly the kind of audience he wants to reach)
This becomes problematic when Facebook tries to influence your behavior to perform actions that are most lucrative for itself. So it will influence you to post more content and like more stuff than to just passively consume content from other people.
The efficacy of these digital products is such that we are easily driven to do what the designers want us to do. We keep going back for those "unread notifications" "Likes" and "Comments".
We are constantly nudged to do what someone else wants us to do.
We act like helpless sheep being shepherded by these digital shepherds.
---
But there is hope in Behavior Science.
Once we know that we are irrational beings, once we know that our actions are driven by our internal and external environment, we can work towards constructing our world to mitigate the ill-effects of those factors.
We can nudge ourselves to become a better versions of ourselves everyday.
Today on The Wisdom Project, we take deeper look at our irrational behavior, we discuss the deluge of choices we seemed to be drowned in, and are they a good or a bad thing? We try to understand behavior science concepts such as "Nudge" and "Choice Architecture" in the most fun way possible.
And, we take a look at a Fly on the Wall. (Well technically, not on the wall!)
Read On.
---
#1
A Simple Nudge
A nudge is basically a small intervention that influences certain kind of action from you. The concept was popularized by economist Richard Thaler's 2007 book "Nudge". He later won a Nobel Prize for it.
The grand success of nudge theory can be observed in its effectiveness in encouraging people to save more for retirement, or for volunteering for organ donation.
These are large scale campaigns that have had massive positive impact on people's lives. But there is a rather a cute and simple nudge that is very popular as well.
"Fly in the urinal" is a concept first introduced in Schipol Airport - Amsterdam.
It's exactly what it sounds like.
The authorities stick a decal of a fly in Men's bathroom urinals. Somewhere very close to the bowl. The sticker causes a person to aim at it while peeing.
This intervention works on the wonderful insight that guys love to "aim and shoot."
This tiny hilarious nudge has been known to reduce "spillage" by up to 85%. (I am not sure how do you measure spillage of a urinal)
There is a company that sells them now as well. You can stick decals and stickers of various kinds in your own bathroom urinal and solve your "spillage" problems.
Listen to this 5 minute podcast from NPR from 2009 that explains the idea further. What stands out most is that there was scope of reducing spillage by so much in the first place. That is truly irrational behavior, and it can be fixed with such tiny interventions displays the true power of Nudge theory.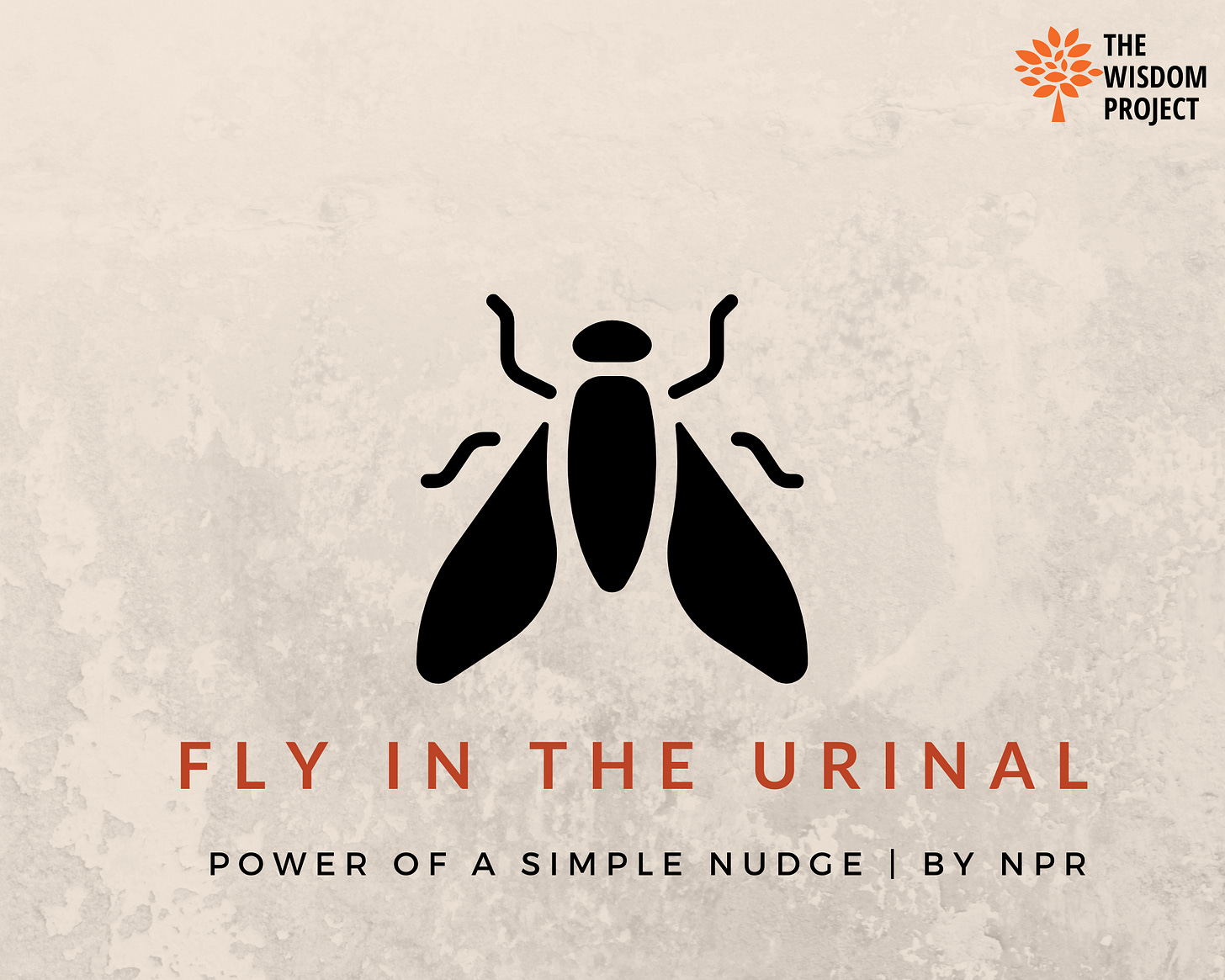 ---
#2
The Choice Deluge
Choices galore in the modern internet enabled world. We are inundated with choices every waking minute of our lives. And even for sleeping, we have endless choices in the kind of mattress we want to sleep on, to the kind of beds, the temperature of the room, the fragrances, the chamomile tea right before bed time, the sleep meditations and the white noise playlists and what not.
The list is endless.
It all stems from the belief that more choice is good for us. And indeed, as consumers we also feel more in control when we have more choices. We feel empowered when we have more options to choose from.
But there is growing evidence that with more and more options to choose from we often succumb to decision fatigue and just go with the default option.
And if by some miracle we do end up making the right choice, the level of satisfaction we feel from the choice is lowered because the regret possibilities are so high.
We are never sure if we made the right decision or not, always second guessing ourselves on the possible outcomes of the other options.
This happens in every purchase we make these days, or even the movies we want to watch on Netflix, or it happens the most when we are taking big life decisions like getting married or switching jobs.
Dr Barry Schwartz argues in his Ted Talk that endless choice is harming us more than its helping us.
He says it has made us more paralyzed than free, more dissatisfied than happy, and more restless than at peace.
Its a 13 year old Talk, and it relevance has only increases manifold over time.
Check it out —
---
#3
The Architecture
Right, so we understand that having endless choice is not as much of a good thing as we imagine it to be.
We can extend this argument to say that having more choice is actually more beneficial to the presenter of the choices than the consumer.
A simple example of this is when back in 2017 Facebook went from a single "Like" button to 6 "Reactions" to a post. It gave us(the users) more choice, but in turn that helped its algorithms better profile the kind of person we are and use that to serve us more effective ads on its platforms.
Attention is the currency of the internet age.
When we interact with any digital product, we are spending that currency within the framework of choices that the creator has created for us.
This framework of choices is called Choice Architecture in Behavior Science.
When you read this newsletter every week you spend your attention on the choice architecture we have created for you. We act as choice architects here.
When you scroll through your endless social media feeds everyday, you spend your attention on the choice architecture an algorithm has curated for you.
You should care deeply about the motives of both kinds of choice architects.
Farnam Street goes deeper into choice architecture and architects in this blog post. They also explain the models we can use to better understand our choices and make better decisions overall.
Most importantly, they emphasize that we should choose our choice architects very carefully.
Checkout the article —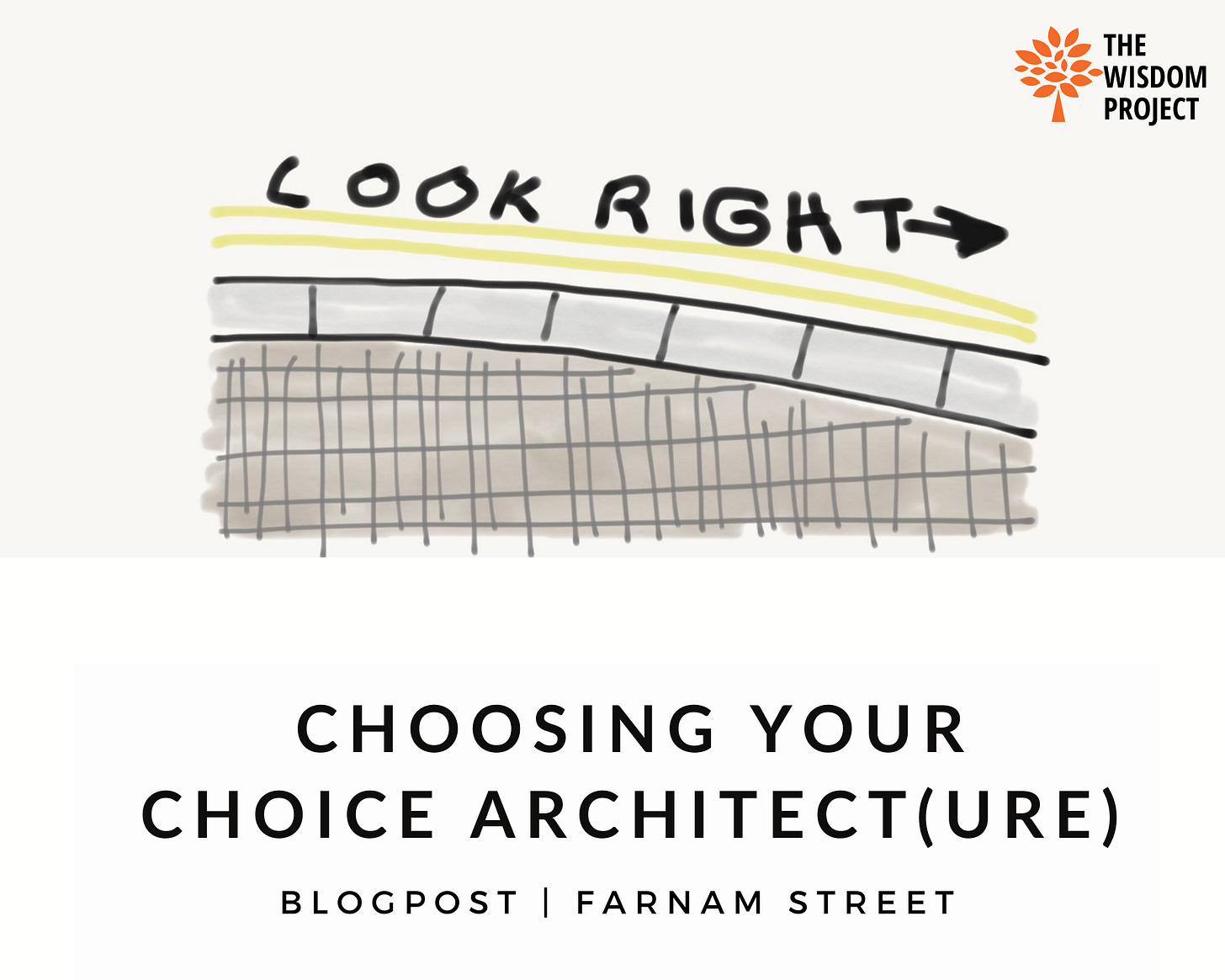 ---
#4
Predictably Irrational
Behavioral science tells us that we are irrational. But it also tells us that our irrationality is predictable.
Which means that we can say with a high degree of certainty which irrational mistakes we are likely to make. We can know beforehand the kind of cognitive traps we are likely to fall into.
And then we can strive to avoid them.
We can build systems, habits, routines to avoid the harms that our irrationality can cause us.
Dan Ariely is a behavior scientist and author of multiple books. His book predictably Irrational is a collection of some brilliant insights about some very irrational human behavior patterns.
He talks about ideas like "Supply Demand Fallacy", "Anchor pricing", "Cost of Zero" and the power of expectations.
Its a fascinating read, sprinkled with light humor throughout, and reads like a breeze.
Checkout the book —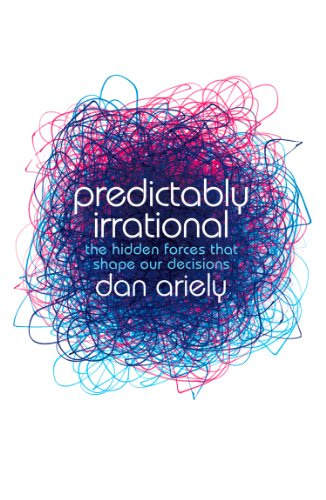 Also, checkout his Ted Talk as an intro to the book and some of its insights.
---
#5
Signing off for the week, here's a quote worth thinking about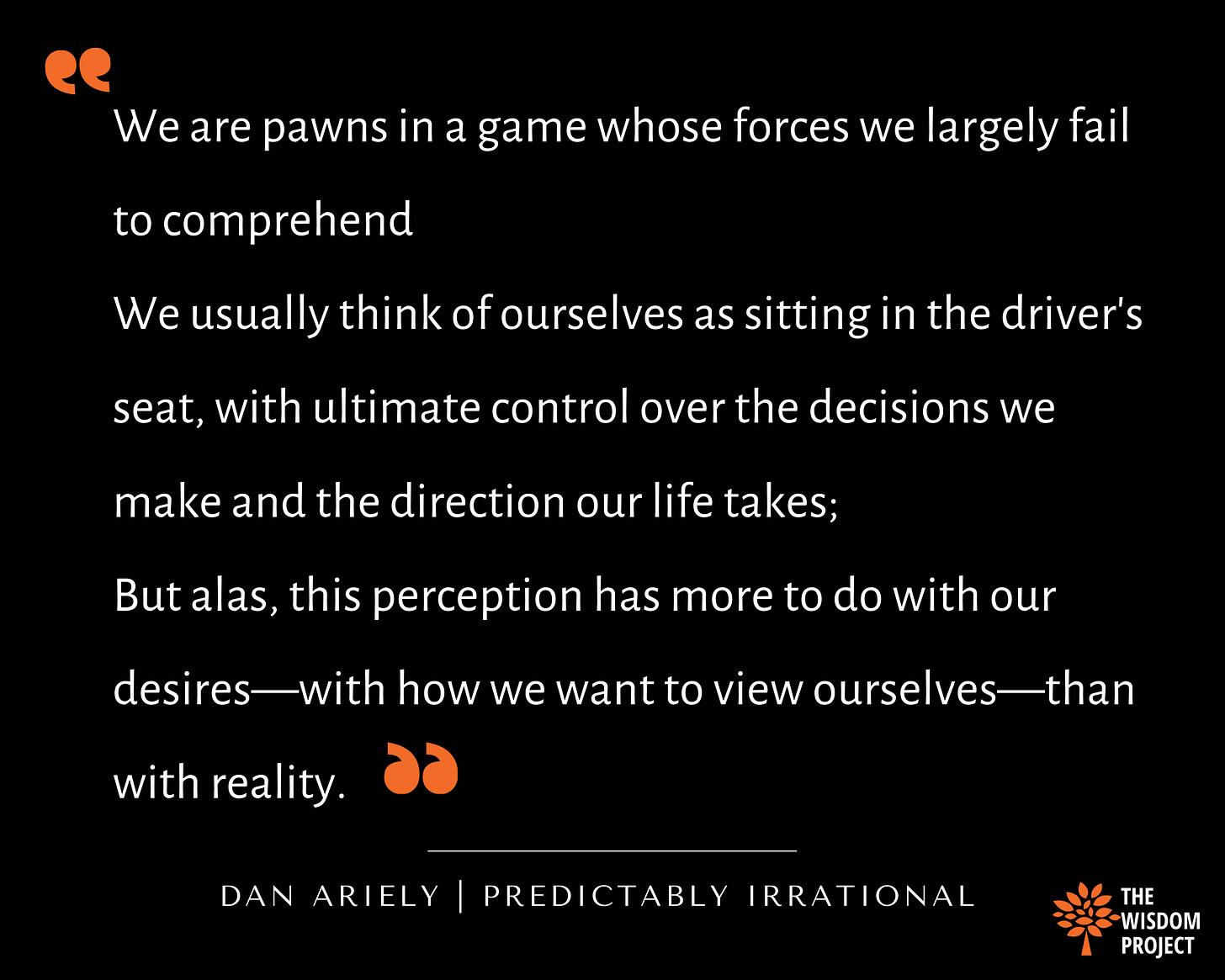 We are pawns in a game whose forces we largely fail to comprehend. We usually think of ourselves as sitting in the driver's seat, with ultimate control over the decisions we make and the direction our life takes; but, alas, this perception has more to do with our desires—with how we want to view ourselves—than with reality.

-Dan Ariely, Predictably Irrational
Read that again.
If there's a single lesson to be processed from decades of behavioral science research, its this.
We are indeed pawns in a game we hardly comprehend. The illusion of control we have in our lives is our brain's way of making a comfortable life for us more than anything.
But its also true that its only our brain, our mental acumen, that can help us come out of this illusion and design environments that help us make the right choices most of the time.
Think about it!
---
If you liked what you just read, you might like an earlier post we wrote about decision making. Decide & Conquer - Wisdom Letter 14.
If you've received this post from a friend, hit the subscribe button below to receive this Wisdom Letter directly in your inbox next week. It will help you spend your Sundays wisely.
And now you can subscribe to The Wisdom Project via WhatsApp . Or connect with us on Facebook to get byte sized pieces of wisdom in your feed regularly.
And if you are already a subscriber, please hit the heart icon at the bottom of this post to show us some love.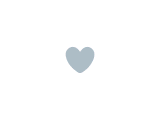 Wisdom is like love. It spreads when you share it with someone. Tell someone about this post and spread some wisdom :)
---
This was Wisdom Letter #36. In case you want to revisit any of the previous 35 letters, checkout our entire archive.
And if you're wondering why we are doing this project, what is the point of it? checkout the intro post, it might make some sense!
Tell us what you liked or disliked about today's letter. We really appreciate all the responses that we get and are hungry for more. Hit reply and lets get talking.
If you are not sure how to consume all of the content we have shared here, checkout the 'how-to' post we wrote —
Ciao
Aditi & Ayush
---
Disclaimer:
None of the links that we share here are affiliate links. We don't intend to make money off of your purchases of any books or products that we recommend. These are honest recommendations that have worked for us and we share them without any ulterior motives.