Discover more from The Wisdom Project
Read better, think better, live better. Actionable insights for multi-passionate generalists. Lessons from the best books, podcasts, articles and more. 1 value packed email per week.
What The Habit!
Building My Best Self | Wisdom Letter #13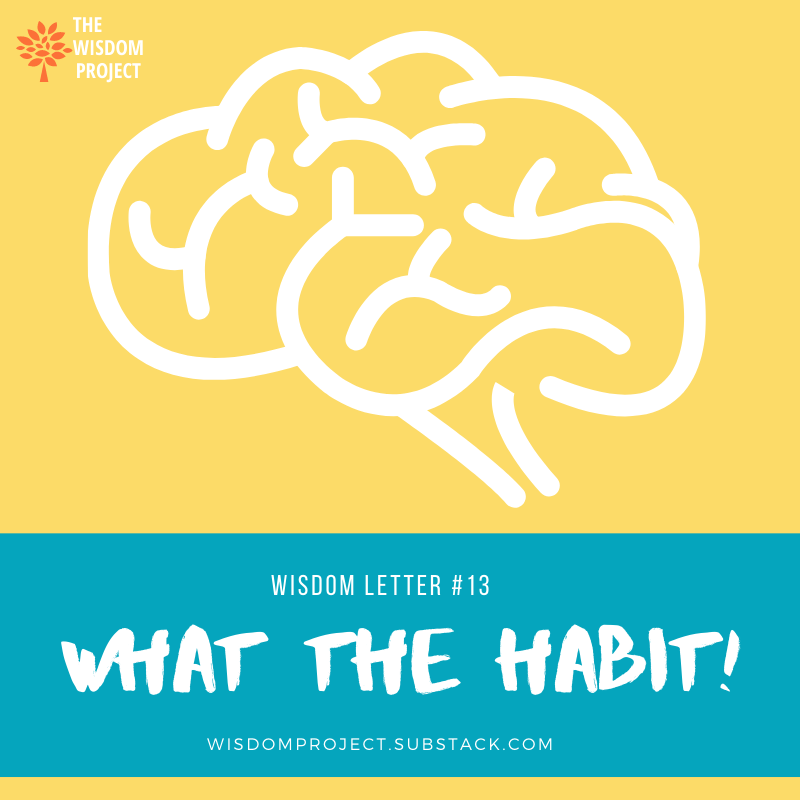 How much will-power do you think you have?
Do you think that you do every little activity of your day with sheer will-power?
Activities as simple as brushing your teeth, or as physically intensive as taking 3 flights of stairs at work.
Where do you think you use more of your will-power?
Believe it or not, but close to half of our daily activities are not done by our will-power.
And it makes sense too, our brain is a high energy consuming device. Every time it has to use sheer will-power to perform an action, it uses up a lot of energy.
As it turns out, will-power is a depleting resource, which is actually directly linked to our blood glucose. That explains the lack of self-control towards the end of a long and tiring day. And no wonder the high we get after a single Red Bull!
Add to that, the fact that our brain thinks that we still live in the African savanna of 2 million years ago. It believes that energy is in short supply and danger lurks in every nook and corner, it must conserve whatever energy it can.
So our brain hacks the process and bundles up our repetitive mundane tasks into preset algorithms that use up minimal energy. Over the years it has become so efficient at this process that it can even hack highly complex tasks such as driving to work, or using fine cutlery to eat off a plate.
Our brain just needs to register a fix repetitive pattern, and it will turn it into this algorithm thingy and focus its energies on other important tasks such as keeping us safe from hungry Lions.
In case you haven't guessed yet(and if the title is not clear enough!), these algorithm thingies are called Habits.
Humans are creatures of habit, and that's what we are talking about today.
Like it or not, we are driven by our habits- good, bad or ugly. And the course our life takes is often determined by the kind of habits we have.
---
#1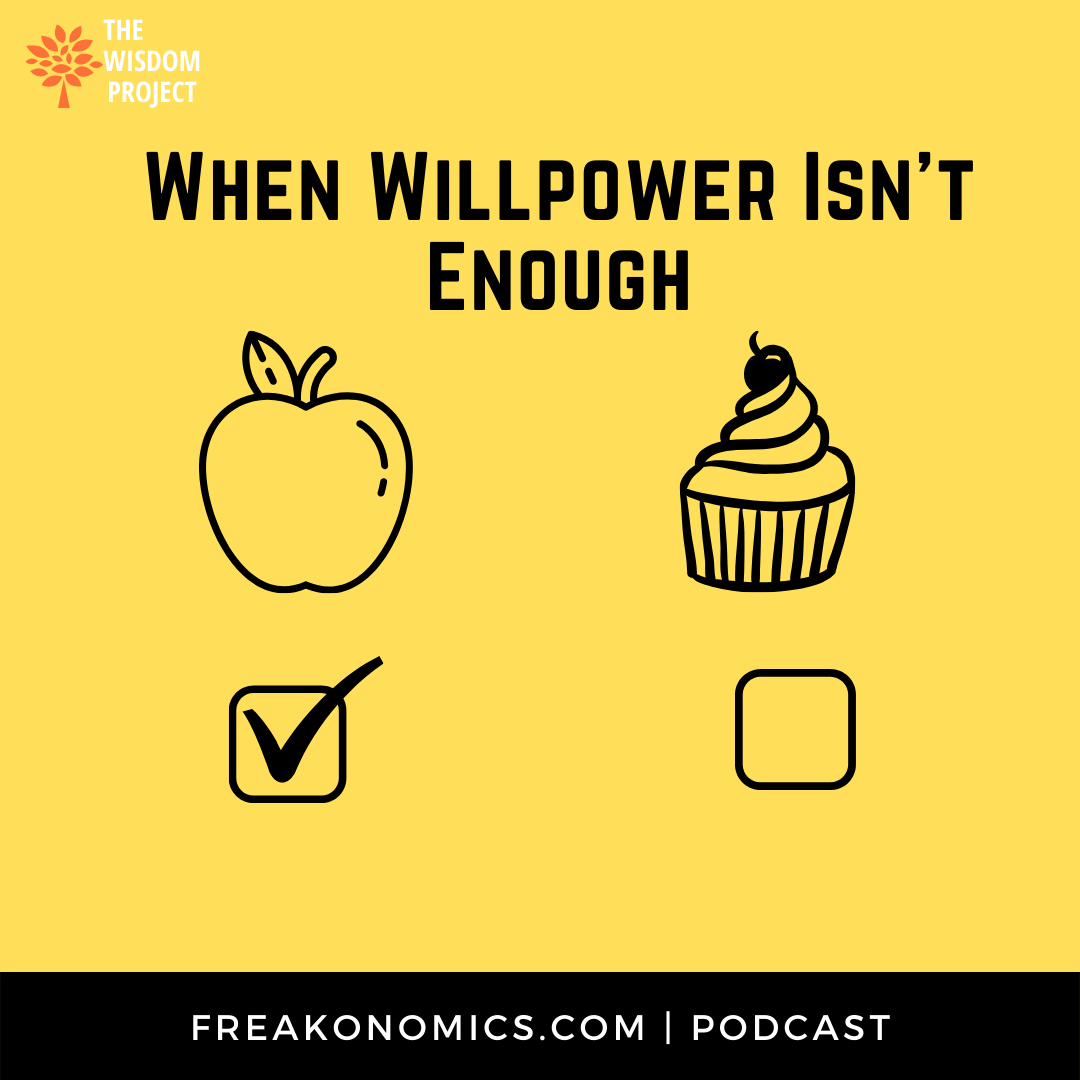 So there are actions that we know we need to perform. But often we can't find the time or energy to do them. Like if you've had a hard long day at work, you reach home, you just want to deposit your backside on the couch and relax. That is not the time when you can pull yourself up and go out for a run.
You know the importance of regular exercise, you promised yourself yesterday that today you will definitely work out, you know you need to do it. You just don't want to do it.
The depletion of will-power comes into effect the most at such occasions.
That's all well and good, but what do you do about it?
Katy Milkman is a professor of Behaviour Economics at Wharton School, U Penn.
In this podcast with Freakonomics Radio from 4 years ago she talks about a concept called 'temptation bundling'.
It essentially is a way to bundle the tasks that you need to do with the tasks you want to do. Like only watching your favourite Netflix show when you are working out at the gym.
Listen to the episode to understand the whole idea and the research behind it.
When Willpower Isn't Enough (Ep. 200)
Listen Time - 30 mins
Or
Read the whole transcript (27 mins)
---
#2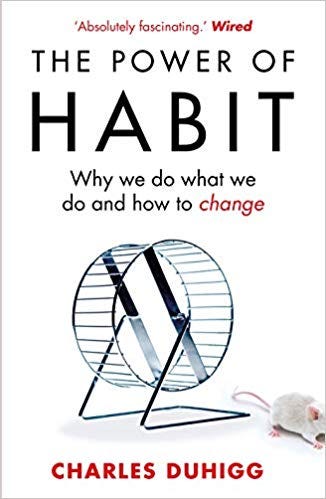 You can't talk about habits and not talk about Charles Duhigg's 'The Power Of Habit'
Its a powerful book that does a great job of explaining the neuroscience of habit formation.
While before reading this book I used to think of habits as simple isolated actions, the biggest lesson for me in this book was that every habit is actually a series of 3 events.
Cue-Routine-Reward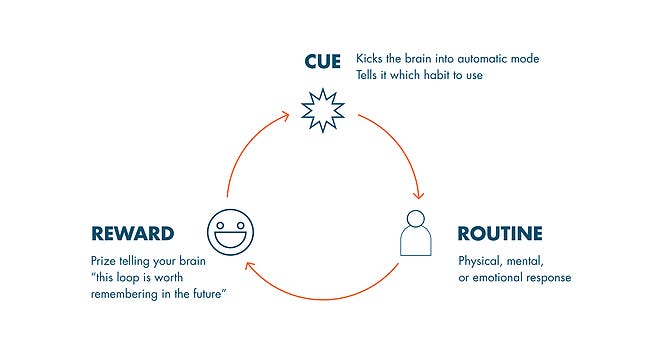 Cue - is the trigger that sets the ball rolling. Its an event that generates a craving in our brain to perform an action.
Routine - is the actual action that we perform.
&
Reward - is the final outcome that brain associates with the routine as either good or bad, so it knows whether we like this routine or not.
And this trifecta of events works the same way for good habits as well as bad. So whether its the craving for popcorn the moment we enter a movie theatre, or the boost of endorphins(happy hormones) after we finish a high intensity work out, the basic neuroscience is the same.
This also means, that we can systematically remove our bad habits and replace them with good ones if we just understand the cues and the rewards around them.
The good thing about the book is that its a journalist's book, not a scientist's. So there's never a dull moment, and you never feel like the book is getting heavy.
Its a must read, check it out—
(400 pages)
Also checkout the Tedx Talk that Duhigg gave about the book.
(16 mins)
---
#3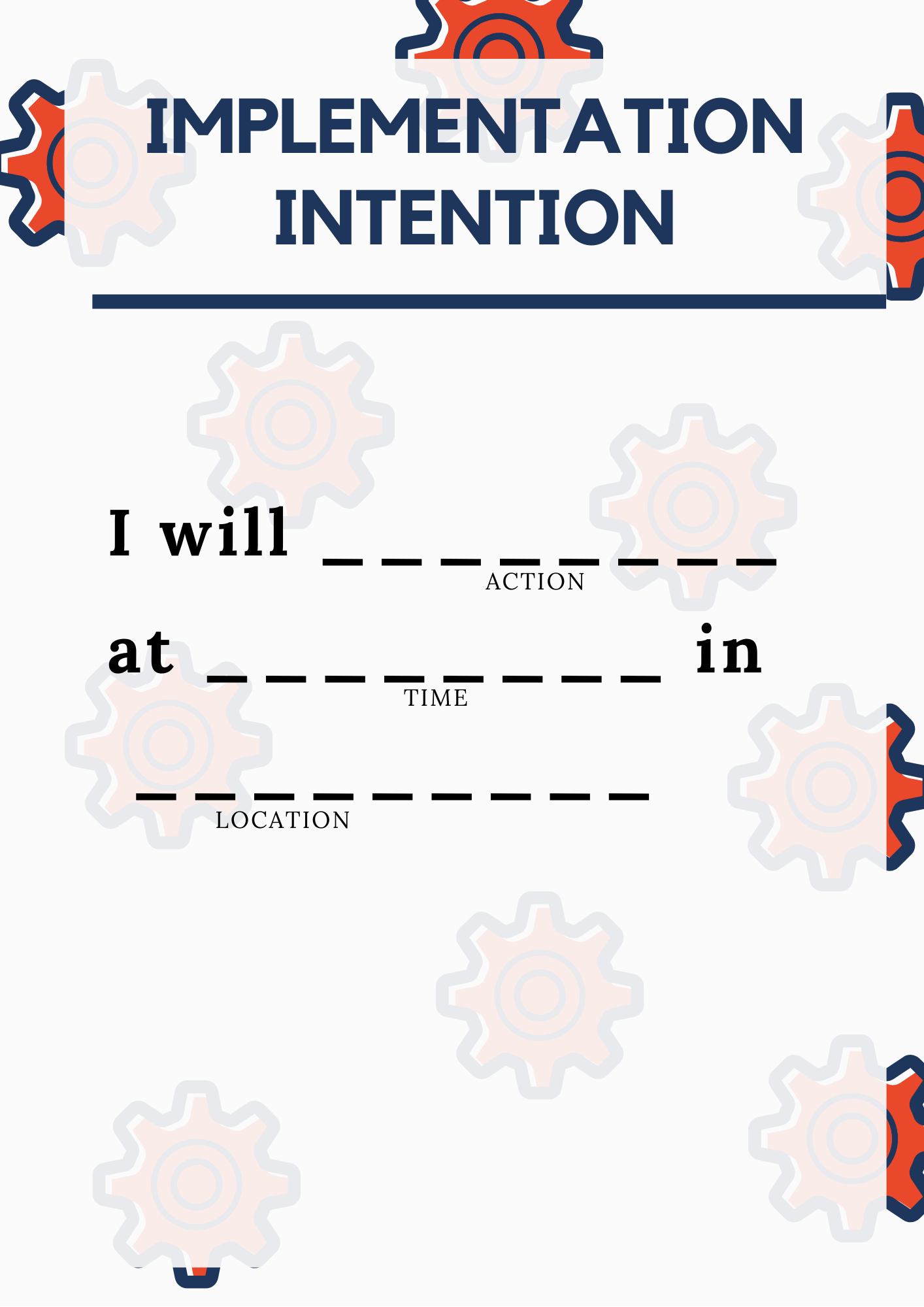 Another wonderful book that talks about the importance of habits is Atomic Habits by James Clear.
We love the techniques and concepts it discusses.
One important concept is the idea of 'implementation intentions'.
Which basically means that if you intend to carry out a task in the future then don't be vague about. If you are not specific about the time and place of the task, then you are just plain procrastinating, and the chances of you actually doing it are close to nil.
What James suggests is to be as clear and specific about habit formation tasks as you can be. The more precise you are about your intention, the easier will it be to follow through with the implementation.
He wrote a great blog post about the idea, check it out—
(7 mins)
---
#4
(We are starting a new section here today. This is where we want to talk about the tools that help us build good habits and pursue Wisdom.)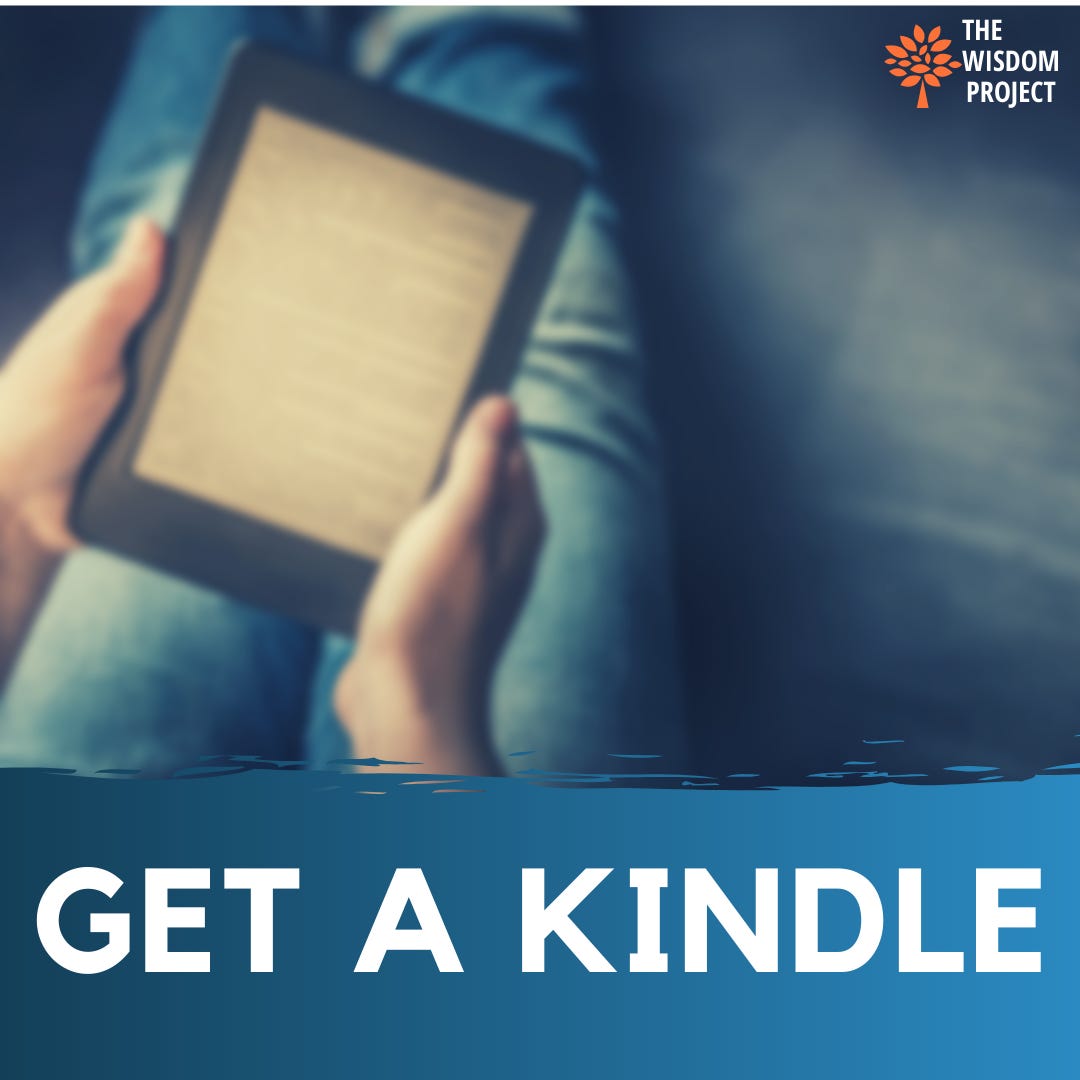 We are big fans of reading books as you may have guessed by now!
And the first tool that we want to talk about is the Kindle ebook reader.
Charles Duhigg in 'The Power of Habit' talks about the concept of Keystone Habits. These are essentially small habits, that when practised regularly start a domino effect that ends up improving every other aspect of out life.
We have felt that reading is one such Keystone habit.
If you read just 15 mins distraction-free every night before sleeping, within a few days you will start to feel the change. Your perspective will broaden and your powers of focus and critical thinking will improve significantly.
An e-book reader is a device that best enables such a daily habit.
E-ink technology is such that it has minimal stress on your eyes and does not harm your sleep, unlike the blue light emitting smartphone displays.
And since it has no 'apps' other than reading there are no chances of any distractions.
You can easily build a reading habit with the cue-routine-reward mechanism. The cue can be getting into bed every night to sleep, the routine is the 15 min reading of a good book, and the reward is the progress that you make into your favourite books which can be easily mapped in percentage terms.
Additional benefits over hard copy books is that you can carry hundreds of books around when travelling. And another thing we enjoy a lot is the fact that with the back-lit display you can read with the bedroom lights off. That is just excellent to doze off while reading.
Its important to look at the Kindle as tool and not as another 'Smart Device'. Its not the same as your phone or tablet. Its a specific purpose tool, not a general purpose tool. It does one thing, and one thing well. That is by design.
And don't look at it as an expense, its an investment. A one time investment that will keep giving returns for a long time.
---
#5
Signing off for the week here's a quote worth pondering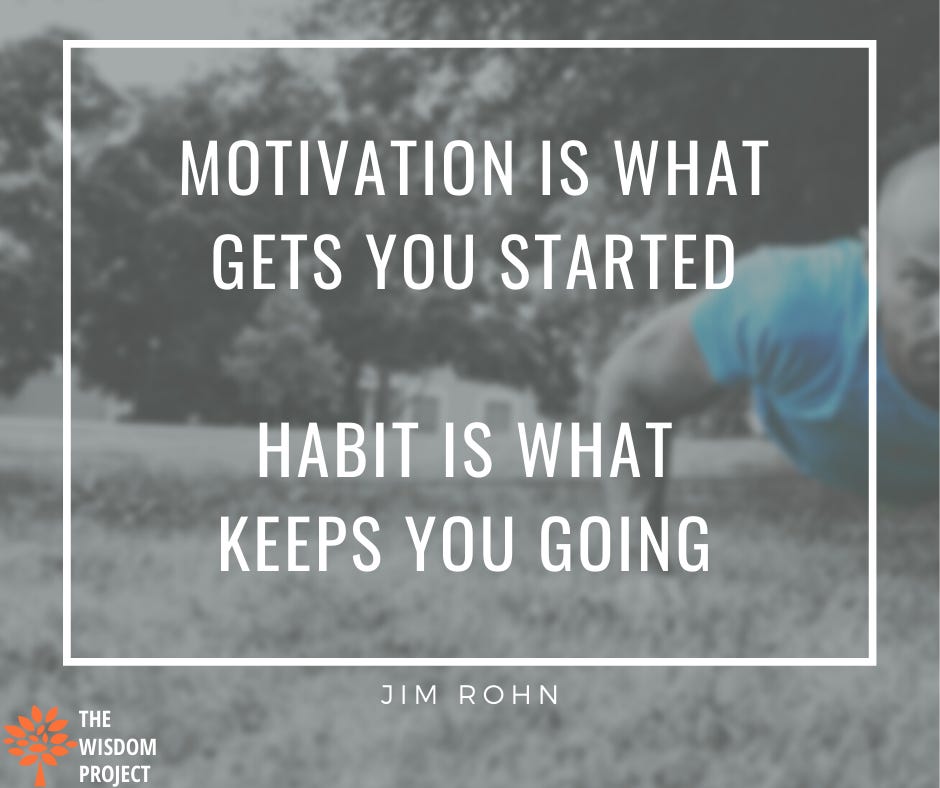 Motivation is a an ephemeral phenomenon, you will get it in random bursts every now and then. But you cannot rely on motivation to help you do the right thing day in and day out. Your inertia will kick your motivation's butt during the most vulnerable times.
For instance, think about the motivation to get fitter and work out every morning at 6 AM starting tomorrow.
You will do it the first few days out of sheer will power and motivation, but easily start skipping work outs after the initial first few days. We have all seen this, and suffered from this many times.
The only way out of this is building good Habits!
A habit of working out first thing in the morning. A habit that is ingrained in your muscle memory, so much that it becomes a part of your system, a part of your identity, a part of You.
Only such a habit will help you meet your long term fitness goals.
Think about it!
---
If you liked what you just read, hit the subscribe button below to receive this Wisdom Letter directly in your inbox next week. It will help you spend your Sundays wisely.
And if you are already a subscriber, please hit the heart icon at the bottom of this post to show us some love.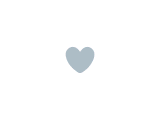 Wisdom is like love. It spreads when you share it with someone. Tell someone about this post and spread some wisdom :)
Ciao
Aditi & Ayush
---
This was the 1st post in a series we are calling 'My Best Self'. If you enjoyed this you don't want to miss the next three.
If you are not sure how to consume all of the content we have shared here, checkout the 'how-to' post we wrote — Navigating Rough Seas
We have made public lists of all the content we share for ready reference. Check them out—
Books as Amazon Public Wishlist
Articles as Pocket Recommendations
Videos as YouTube Playlist
---
This was Wisdom Letter #13. In case you missed last week's letter, check it out here- #12 its called "Lessons on Love"
Here's letters #11, #10 and #9
Check out our entire archive.
And if you're wondering why we are doing this project, what is the point of it? checkout the intro post, it might make some sense!
---
Disclaimer:
None of the links that we share here are affiliate links. We don't intend to make money off of your purchases of any books or products that we recommend. These are honest recommendations that have worked for us and we share them without any ulterior motives.
---