Discover more from The Wisdom Project
Read better, think better, live better. Actionable insights for multi-passionate generalists. Lessons from the best books, podcasts, articles and more. 1 value packed email per week.
Pearls of Wisdom - 4
Looking Back | Wisdom Letter #32
Update : We are on a short break for a couple of weeks. We will be back with a fresh new Wisdom Letter next week, meanwhile revisit some of the best Wisdom Letters of the past few months.
---
The Best of Wisdom Letters - Reader's Choice
Of Black Swans and Grey Rhinos | Wisdom Letter 28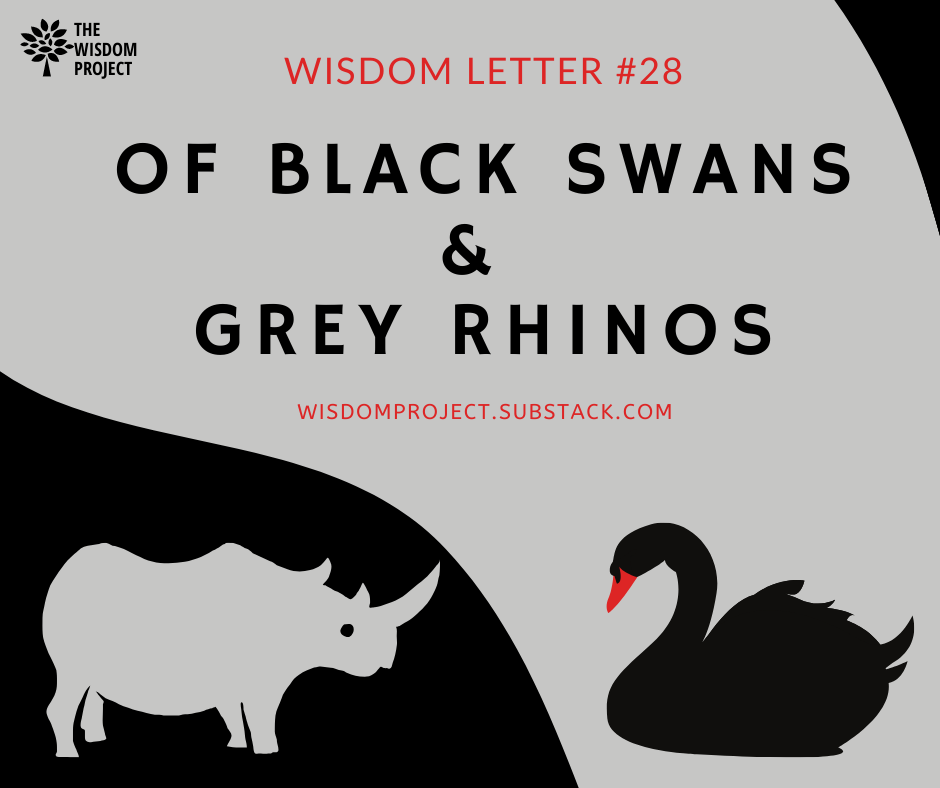 Today we are talking about the concept of Black Swan Events.
Its a term used to define highly improbable events, impossible to predict, which have a massive impact on the world, but which seem obvious in hindsight.
The term is coined by philosopher writer Nassim Nicholas Taleb in his 2007 book "The Black Swan". The term has an interesting origin story about the western world's discovery of black swans in Australia, read it on Wikipedia.
It's a good way to think about the risk of the unknown unknowns that an unpredictable future brings.
---
The Wisdom of Wealth | Wisdom Letter #26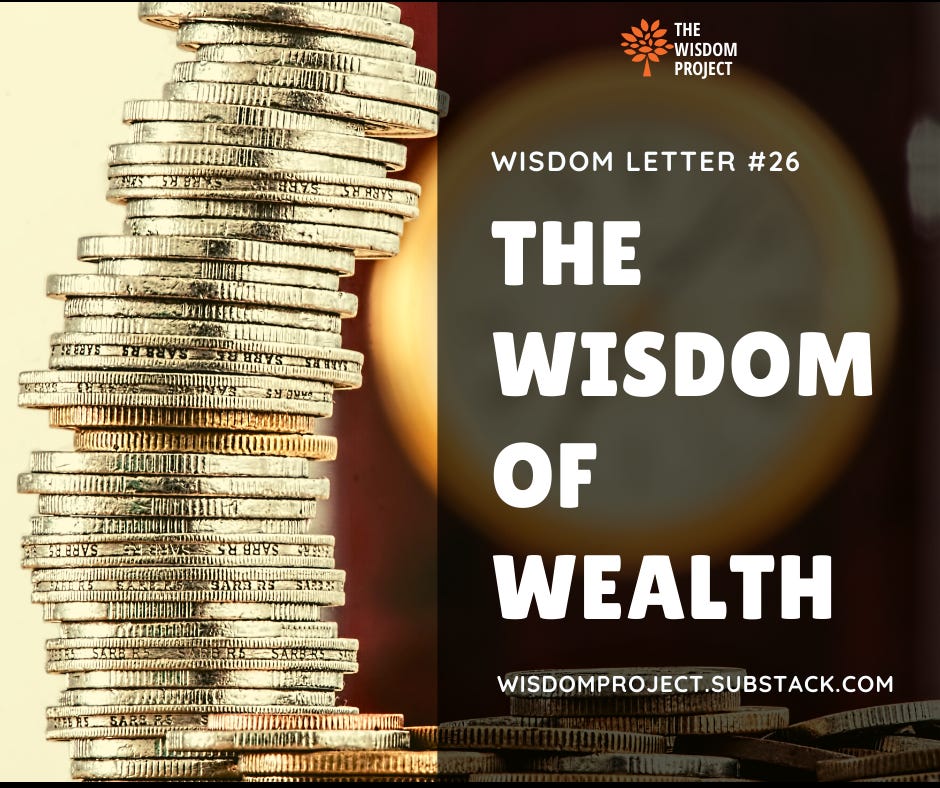 What is your net worth?
How do you even measure your net worth? Is it your annual package? Is it the money in the bank you saved up? More likely, its the value of all the assets that you own, including your bank account.
That's a good word there, VALUE.
How do you ascertain value in any area of life?
The 10 minutes you spend every week reading this newsletter, do they add any value to you? If yes, can you put a number to that value?
---
The Best of Wisdom Letters - Editors' Choice
Passion, Perseverance and Practice | Wisdom Letter #15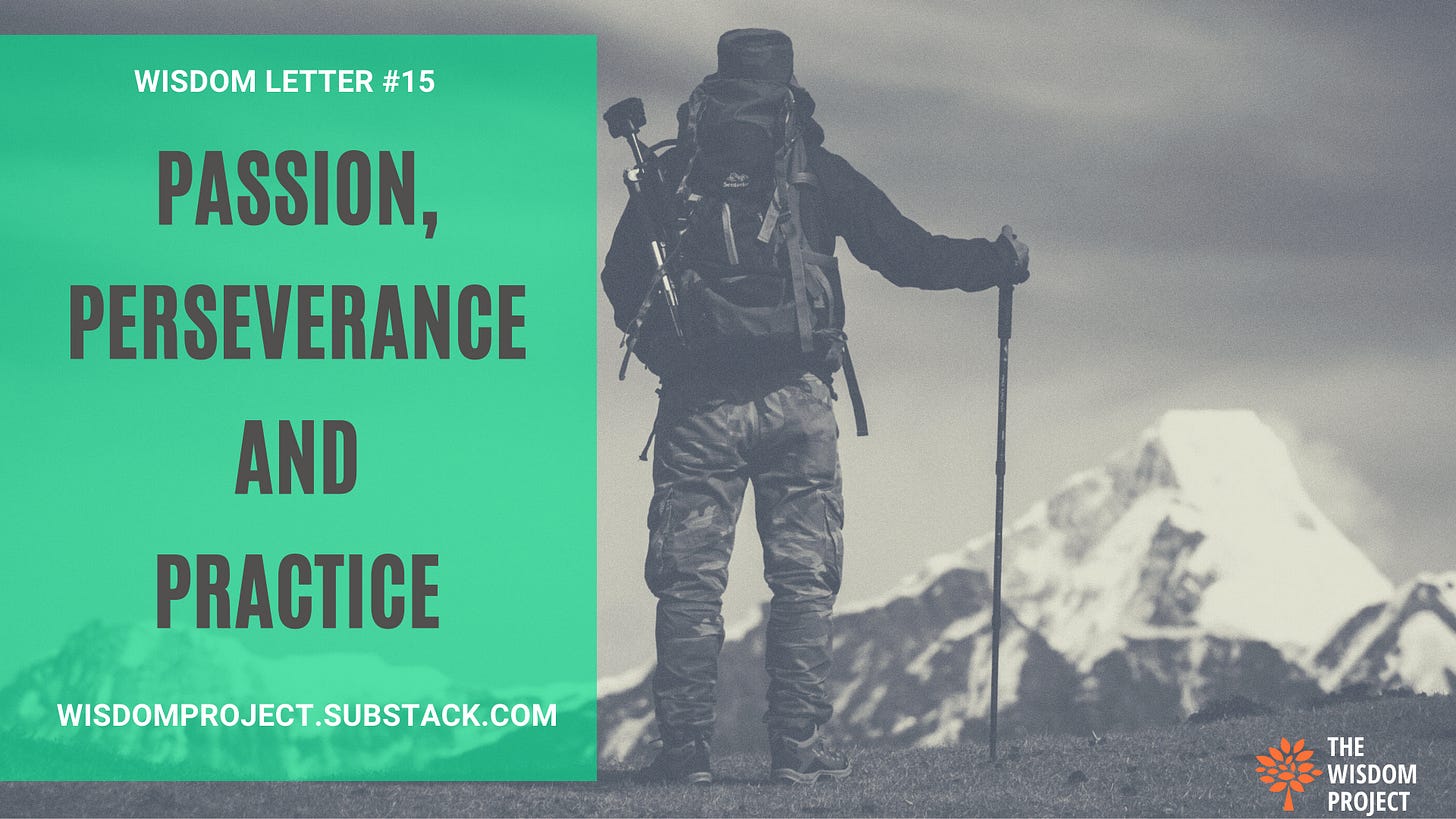 Do you have a skill?
Do you have mastery in that skill?
How do you think people achieve mastery?
How does Sachin Tendulkar bat the way he does, how does Lata Mangeshkar sing the way she does? And how does Narendra Modi speak the way he does?
You can say they all have the talent.
That intangible, elusive phenomenon that makes them a natural at whatever they do. It gives them an advantage over everyone else in their field, catapulting them to the top of the pyramid.
But is that it? Can talent alone take someone to the heights of peak performance?
---
Wounds Heal, Scars Last | Podcast
Morgan Housel of Collaborative Fund has written an article titled "Wounds Heal, Scars Last".
He argues that while the COVID19 wounds would heal with time, but the scars that it will leave behind on our society culturally and psychologically will last long.
He further explores a couple of long term scars we are likely to see and explains his thesis for the same. The kind of changes we are likely to see in people's behaviour and the social structures we will come up with in a post pandemic world.
This is an interesting idea, of wounds healing but scars lasting. It's worth diving deep into this idea and attack it from various angles.
This week on The Wisdom Project podcast we springboard from this idea and look back at the wounds of our own history as a nation and discuss the scars those wounds have left us.
Check it out—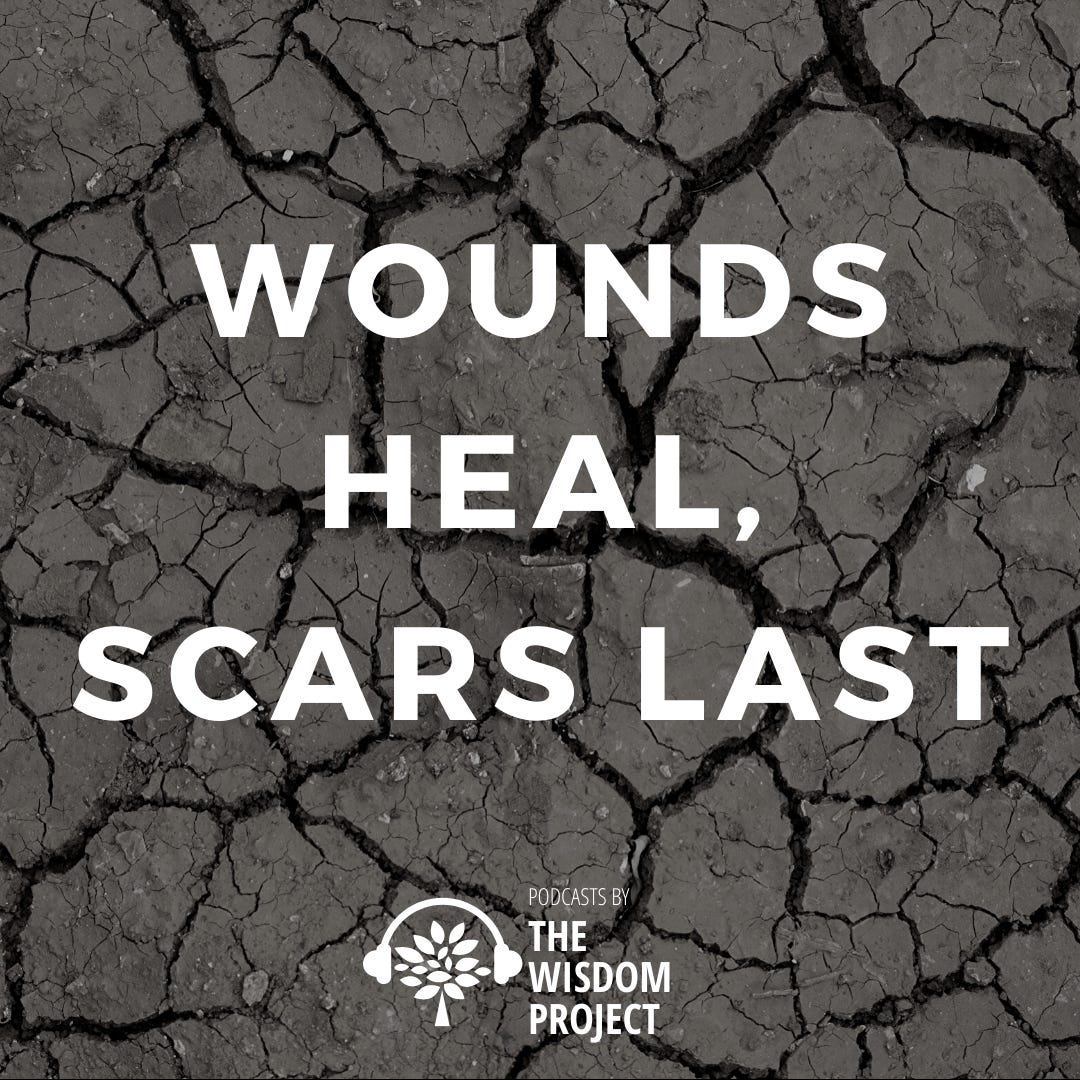 ---
Check out our older assortments of best Wisdom Letters we did at the end of last year. They are called Pearls of Wisdom-1 and Pearls of Wisdom-2.
Also checkout last weeks assortment in case you missed it, Pearls of Wisdom-3.
---
If you liked what you just read, hit the subscribe button below to receive this Wisdom Letter directly in your inbox next week. It will help you spend your Sundays wisely.
And if you are already a subscriber, please hit the heart icon at the bottom of this post to show us some love.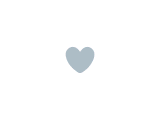 Wisdom is like love. It spreads when you share it with someone. Tell someone about this post and spread some wisdom :)
Ciao
Aditi & Ayush
---
This was Wisdom Letter #32. In case you want to revisit any of the previous 31 letters, checkout our entire archive.
And if you're wondering why we are doing this project, what is the point of it? checkout the intro post, it might make some sense!
Tell us what you liked or disliked about today's letter. We really appreciate all the responses that we get and are hungry for more. Hit reply and lets get talking.
If you are not sure how to consume all of the content we have shared here, checkout the 'how-to' post we wrote —
---
Disclaimer:
None of the links that we share here are affiliate links. We don't intend to make money off of your purchases of any books or products that we recommend. These are honest recommendations that have worked for us and we share them without any ulterior motives.