Discover more from The Wisdom Project
Read better, think better, live better. Actionable insights for multi-passionate generalists. Lessons from the best books, podcasts, articles and more. 1 value packed email per week.
Pearls of Wisdom - 3
Looking Back | Wisdom Letter #31
Update : We are on a short break for a couple of weeks. This is a good time to revisit some of the best Wisdom Letters of the past few months. Check them out
---
The Best of Wisdom Letters - Reader's Choice
Reflections on a Republic | Wisdom Letter #21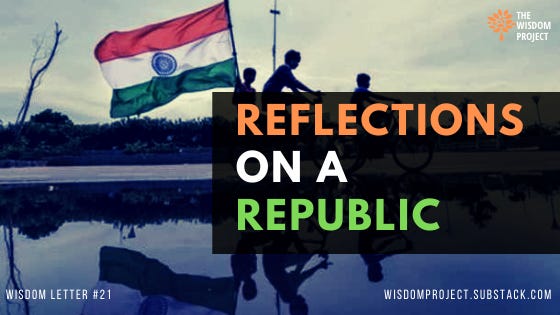 We can certainly bask in the glory of the successful experiment called the Republic of India.
But as much as this experiment has been successful, it has also been riddled with numerous failures and challenges that are worth reflecting on. And we strongly believe that there is always a lot more to learn from failure than from success. We ignore our flaws at our own peril.
So for us as Indians, and also as citizens of the world, it's imperative that we contemplate on where a democracy as vibrant and diverse as India has failed its people, the very entity it was conjured up to serve.
---
Decide And Conquer |
Wisdom Letter #14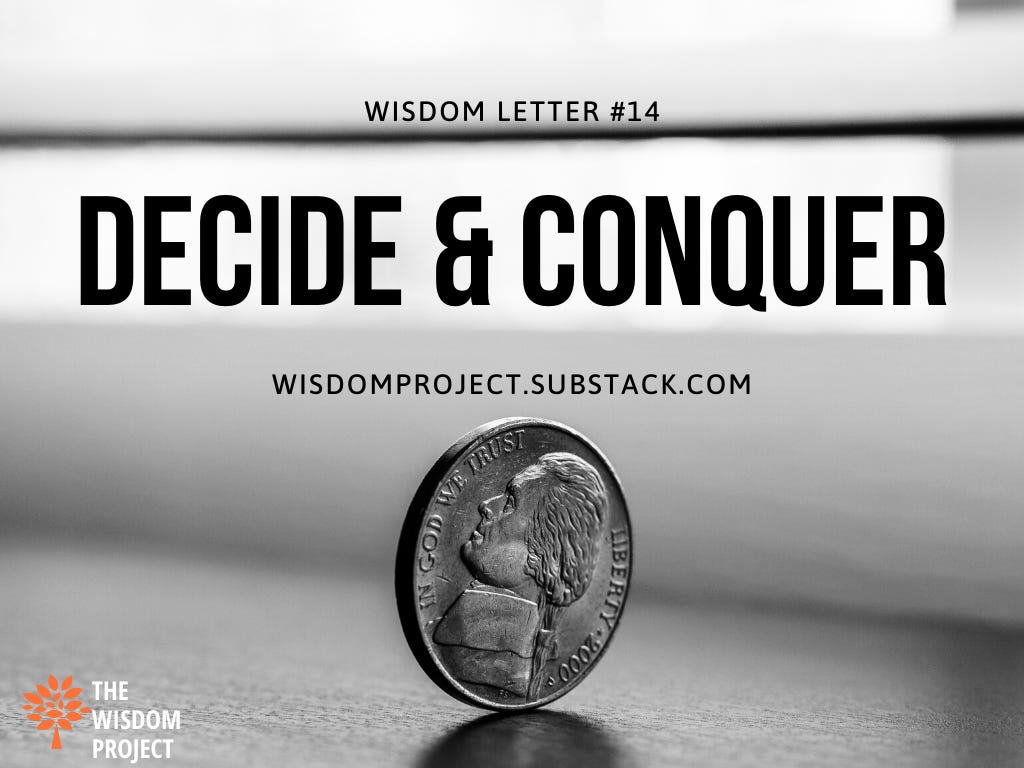 How do you decide anything?
Okay that's kind of vague.
How do you make decisions about the big things in life?
Things like a major job switch, or the decision to get married(or not!), or when to have kids(or not!).
And what about the smaller, lower stakes decisions that pop-up everyday. Like what to eat today, or where to go for your next vacation, or what to do with the pile of money rising in your bank account?
Some psychologists say that we take approximately 35000 decisions in a day.
Yes! that's a lot.
Lets try and get some wisdom around decision making.
---
The Best of Wisdom Letters - Editors' Choice
The Infinite Scroll | Wisdom Letter #24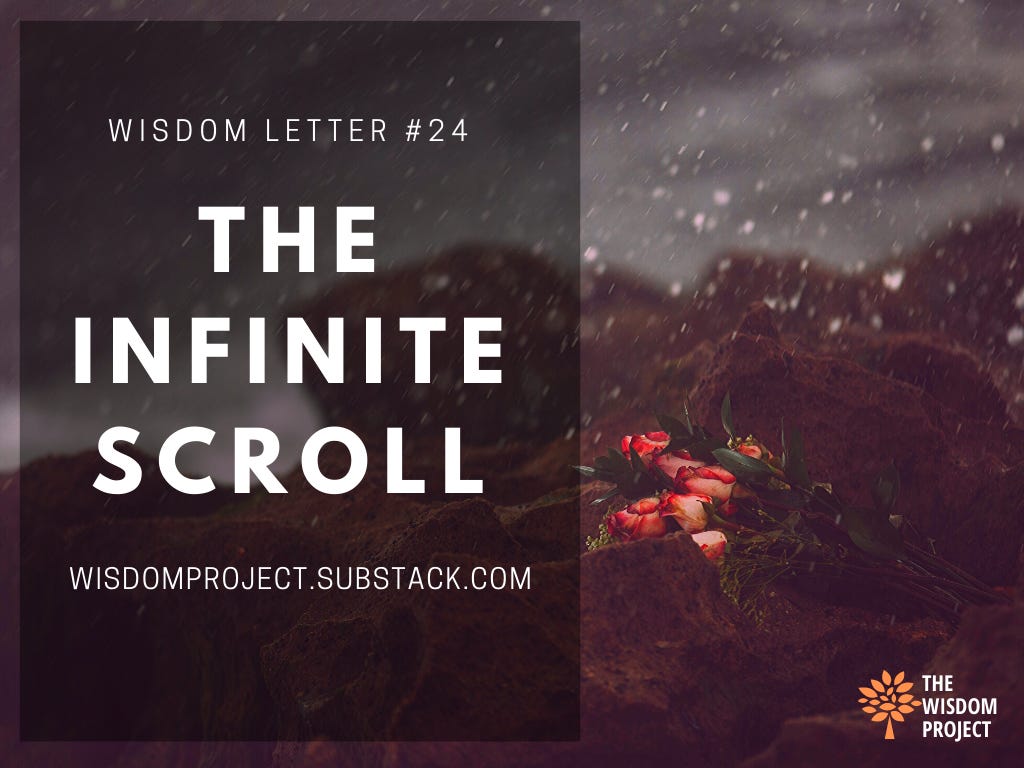 Humans are dynamic complex beings bound by the laws of evolution.
As humans evolve, so do their relationships, and so should the parameters of those relationships. And yet often highly mature relationships are measured based on the parameters of "young love" or "college romances" which lead to unnecessary friction and heat.
As we conclude our two part series on Love, we look at the challenges a modern long term relationship faces and what we can do to overcome those challenges.
We will also see what happens when healthy loving relationships are cut short abruptly and how do we deal with loss and longing in our great love.
As we saw earlier, Falling in Love is inevitable and terribly easy (you can even fall in love with an OS), in this post we will explore how we can Rise in Love and lead a happy, healthy and fulfilling life.
---
Remote Control | Podcast
This week we are joined by our dear friend Anirban Ghosh to talk about how the COVID19 lockdown will impact the way we work over the long term.
Listen in for a fun, casual, thought provoking conversation about calibrating the "Remote Controls" to our work lives.
Check it out—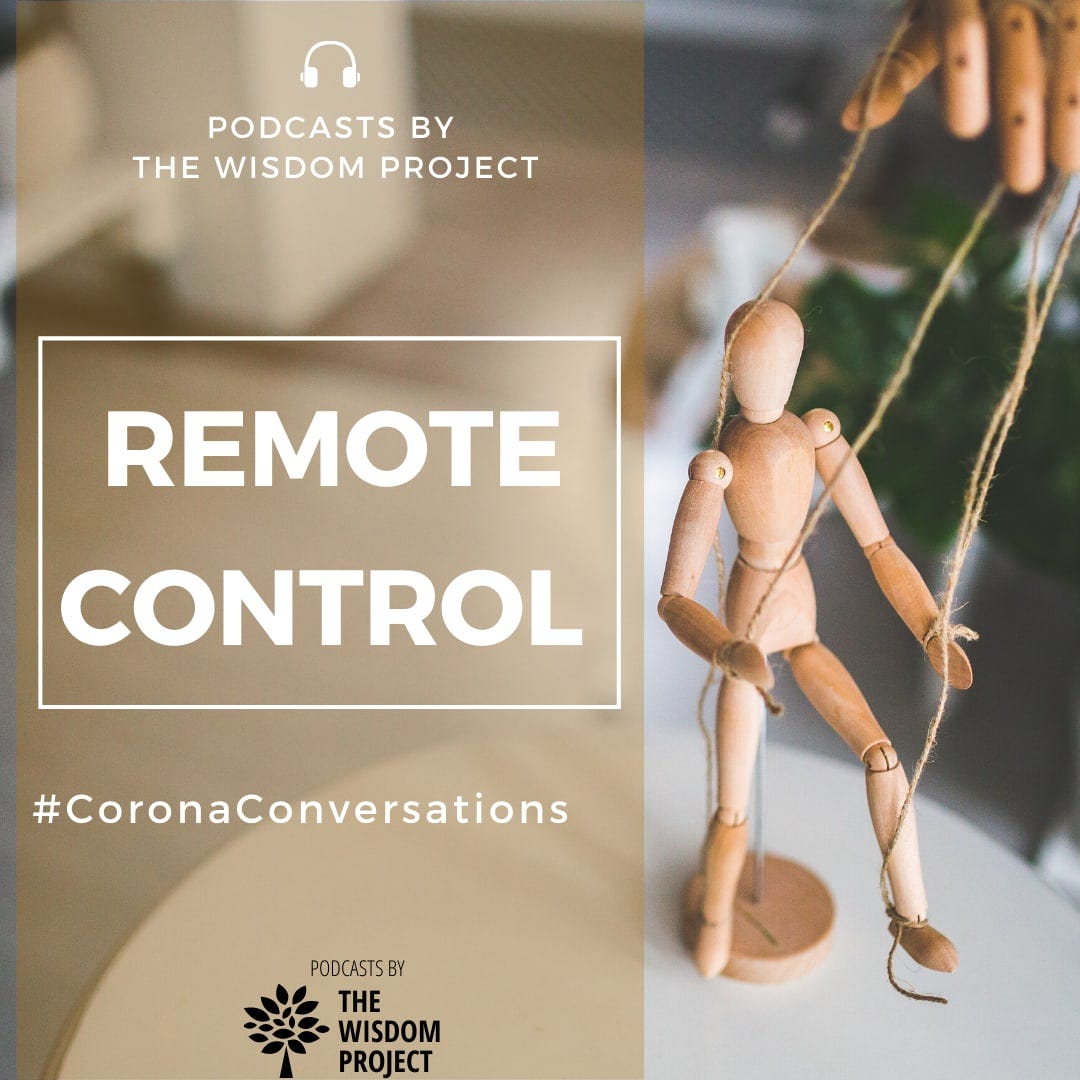 ---
Check out our older assortments of best Wisdom Letters we did at the end of last year. They are called Pearls of Wisdom-1 and Pearls of Wisdom-2.
---
If you liked what you just read, hit the subscribe button below to receive this Wisdom Letter directly in your inbox next week. It will help you spend your Sundays wisely.
And if you are already a subscriber, please hit the heart icon at the bottom of this post to show us some love.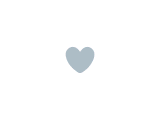 Wisdom is like love. It spreads when you share it with someone. Tell someone about this post and spread some wisdom :)
Ciao
Aditi & Ayush
---
This was Wisdom Letter #31. In case you want to revisit any of the previous 30 letters, checkout our entire archive.
And if you're wondering why we are doing this project, what is the point of it? checkout the intro post, it might make some sense!
Tell us what you liked or disliked about today's letter. We really appreciate all the responses that we get and are hungry for more. Hit reply and lets get talking.
If you are not sure how to consume all of the content we have shared here, checkout the 'how-to' post we wrote —
---
Disclaimer:
None of the links that we share here are affiliate links. We don't intend to make money off of your purchases of any books or products that we recommend. These are honest recommendations that have worked for us and we share them without any ulterior motives.